A four-day Ski Touring expedition across the Julian Alps

We are proudly announcing our new winter product: Juliana SkiTour - a four-day ski touring expedition across the Julian Alps.
Total length: 52 km
Total height difference: 4.367 m ascents, 4.891 m descents
Total number of tours: 4 tours (2 choices for each tour)
Average stage length: 13 km, 5-6 hours
The Juliana SkiTour is not one long connected tour, but rather a sum of four different ski tours. The four stages with all the necessary transfers take us on a ski touring adventure across the whole area of the Julian Alps; from Kranjska Gora on the north side, all the way to Tolmin on the south side. The tour can also be done in the opposite direction.
Each of the four stages has two options to make it easier to adapt to the actual conditions in nature.
The basic idea of this tour is a ski touring adventure where you do not need to sleep in cold bivouac shelters high in the mountains but return to the valley every day where you can have a warm shower, a comfortable bed and a decent dinner.
This way, an extraordinary winter adventure becomes more accessible to a wider circle of mountain visitors in the winter, even to the less experienced tour skiers if they set off with a qualified guide.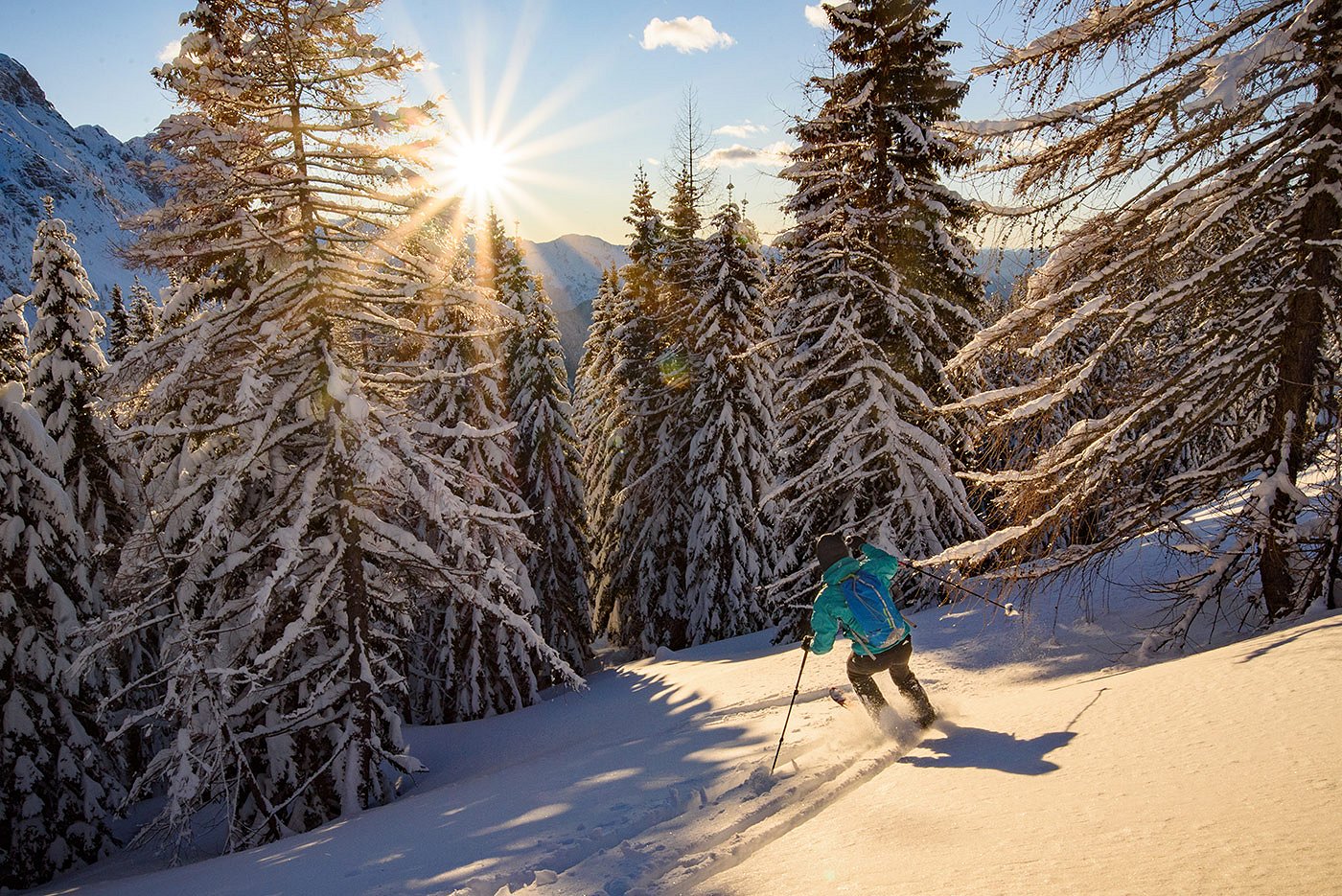 Ski touring, Čisti vrh, &copyŽiga Humar
Responsible tourism is our choice
Snow-capped mountains can be reached on skis without ski lifts or artificial snow which interfere negatively with the environment. Our community within the Julian Alps believes that the green path is the one that will help us protect and preserve the exceptional natural and cultural values of this fragile environment, as well as present it to visitors in the right way.
Most of the Julian Alps are within the protected area of the Triglav National Park. The purpose of the park is to preserve the abundance of natural resources and cultural heritage for posterity. Therefore, rules of conduct have been established in the park, which we are obliged to respect.
Most of the Juliana Ski Tour runs through the Triglav National Park.
The described paths try to avoid the quiet zones that the animals in the park need in order to survive the winter. Do not go into the quiet zones to disturb the animals. It is your duty to adhere to the corridors described and to contribute to the preservation of the wonderful creatures that adorn our planet.