Not far from Kobarid, above the emerald green Soča River, there is a gorge of the Kozjak stream, where the 15-metre-high Kozjak Waterfall particularly stands out. This popular natural sight creates the image of a heavenly corner hidden from the everyday world by tall, dark walls, covered in limestone sediments, just like in the karstic caves.
An arranged footpath will lead you to the waterfall. In some places, it is complemented by small wooden bridges and ends with a terrace with a mystical view of the rocky amphitheatre with a green pool and a white beam of water.
The mysterious Kozjak waterfall, which is captured in a stony chamber, is according to many the most beautiful waterfall in Slovenia.
The Kozjak Stream, which springs in several headwater sections high under Krnčica (2,142 m), flows through multiple pools and six waterfalls, of which only two are accessible to visitors: in addition to the Veliki Kozjak (Kozjak Waterfall), there is the slightly lower, 8-metre-high Mali Kozjak waterfall.
Kozjak Waterfall, the Protected Natural Area
The Kozjak Stream with waterfalls is a protected natural treasure. Even though the Kozjak Waterfall is an excellent destination for a walk in the hot summer days, because the steep walls preserve the pleasant coolness and slightly lower temperatures, the pool under the waterfall is not suitable for bathing. Help preserve the original experience of the Kozjak Waterfall for other visitors too and only choose bathing areas next to the Soča, Nadiža and Idrijca rivers for bathing.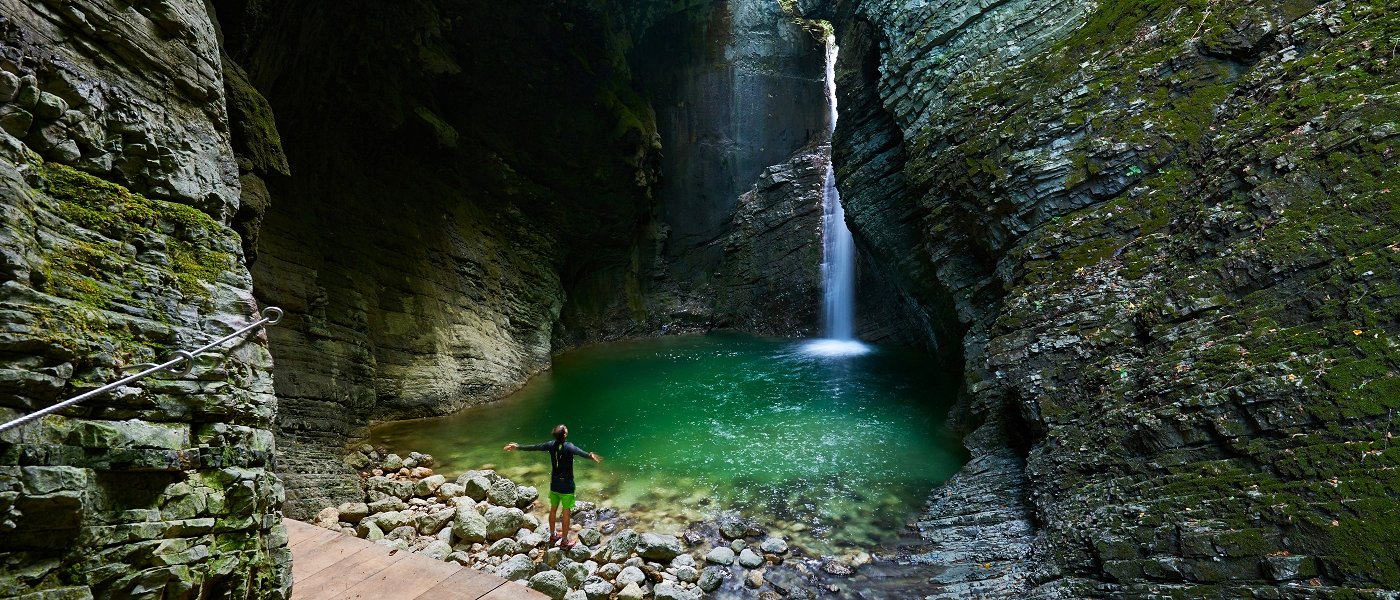 Waterfall Kozjak, Kobarid, &copyTomo Jeseničnik
Kozjak Waterfall - Compensation for the use of the infrastructure
Entrance point at the waterfall Kozjak is open from 2 April till 31 October.
Opening hours:
| | |
| --- | --- |
| from 1st April till 26th April | Saturday, Sunday, 9.00—17.00 |
| from 27th April till 2nd May | every day, 8.00—19.00 |
| from 3rd May till 1st June | Friday, Saturday, Sunday, 8.00—20.00 |
| from 2nd June till 15th August | every day, 8.00—20.00 |
| from 16th August till 1st October | every day, 8.00—19.00 |
| from 2nd till 31st October | every day, 9.00—17.00 |
Price list:
| | |
| --- | --- |
| 2023 | 1. 4.—31. 10. |
| adults | 5,00 EUR |
| children (from 7 till 14 years old) | 3,00 EUR |
| students, seniors, groups (more than 10 people) | 4,00 EUR |
| family | 12,00 EUR |
| yearly | 15,00 EUR |
| with the Julian Alps card: Soča Valley | free |

Kozjak Waterfall – ACCESS
How to get to the Kozjak Waterfall? Access is simple and also suitable for families. On your way from Kobarid, in the direction of the Drežnica village, follow the turning for Napoleon's bridge over the Soča River. The Kozjak Waterfall, which is also one of the tourist attractions on the Kobarid Historical Trail, is also accessible from the arranged footpath. You will need a half hour easy walk from the car park to the waterfall.