The most water-rich and mightiest waterfall in Slovenia, with a total height of 144 metres and width of 18 metres, is also one of the most majestic waterfalls in Europe.
The view of the vertical rocky walls with the Boka Waterfall in the centre is truly eye-catching. Waters that accumulate in the high mountains of the Kanin mountain chain thus come to light on a rocky shelf, over which they free-fall for 106 metres and, directly afterwards, another 30 metres deep. Due to the fact that the waters hit the ground hard and the resulting erosion, the depth is increasing.
The Boka Waterfall Spews Most Water in Spring
In spring and autumn, when the snow melts and larger quantities of rainfall, the Boka Waterfall becomes particularly loud and photogenic because it achieves the greatest flow – even up to 100 m³/s. In droughty summer months, the flow falls to as little as 2 m³/s. The average water temperature is 4.5 °C.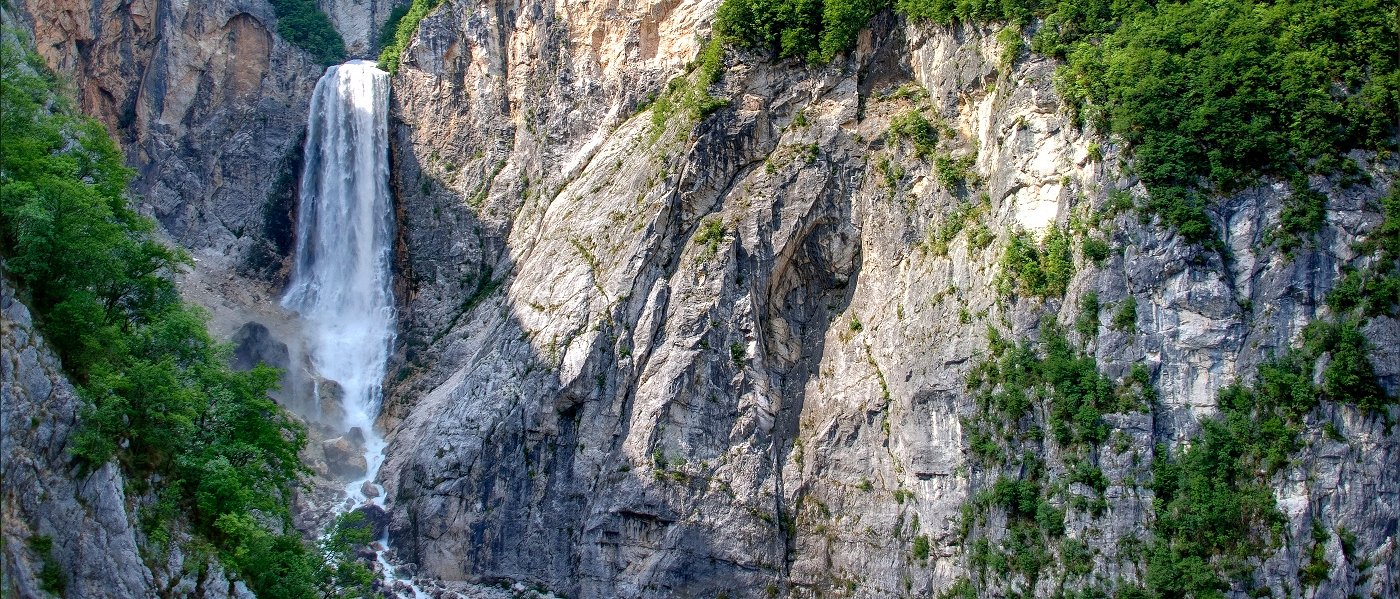 Waterfall, Bovec, &copyJure Batagelj
Do you Know How the Boka Waterfall was formed?
Folk tradition tells a cruel story, which is the exact opposite of the natural beauty that the mighty waterfall radiates.
A boy and a girl who went up the hill to collect mushrooms were hungry and knocked on the door of a small house, where they found an old lady, who gave them food. But the good old lady was not as good as it first seemed. The boy caught her sharpening an axe in front of the house and making plans to kill them and make a roast out of them. He quickly returned inside and waited behind the front door with a stick in his hands for the old lady to enter the house. He hit her hard and then finished her off with the axe that fell from her hands. Her blood changed into a waterfall that was named the Boka Waterfall.
Boka Waterfall - ACCESS
The Boka Waterfall is well visible from the Bovec-Žaga road. On the right side of the bridge, a well-marked path leads to the panoramic viewpoint. With a moderate pace, a 15-minute walk is needed to reach the viewpoint. Those who are very dexterous and curious can continue at their own risk along the path, which is in some places very steep and precipitous and uncovers even more beautiful views of the waterfall while ascending and finally leads to the viewpoint over the waterfall (a 45-minute walk uphill).
| | | | | |
| --- | --- | --- | --- | --- |
| | Boka Waterfall and the Lipuc Bridge | 10,8 km | 3:16 h | Explore > |
| | Narnia Hiking trail | 15 km | 4:40 h | Explore > |
BOVEC HOP-ON HOP-OFF to Boka Waterfall
In July and August organized public transport is available >