This majestic fort above the Koritnica gorge is one of the most visited cultural sights in the Soča valley. It is an important monument to the defence against Turkish invasions, Napoleon's army and attacks during World War I.
The history of the Kluže Fort is captured in the remarkable nature, between the steep slopes of Rombon, Slemen and the 70 m deep emerald green gorges of the River Koritnica. Here you will feel and admire the draughts of the past that marked this strategically important position, also known as Bovška vrata. Location: The Kluže Fort lies 4 km out of Bovec in the directon of the Predel mountain pass.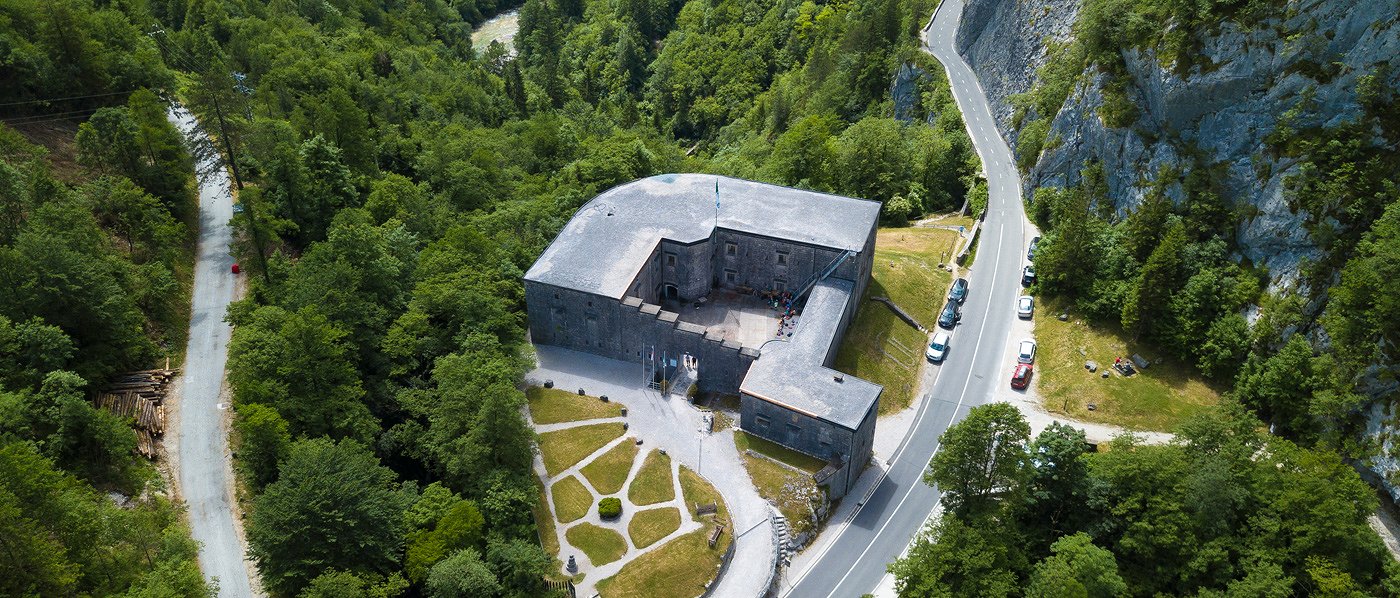 Kluže Fort, Bovec, &copyJure Batagelj - arhiv Fundacije Poti miru
The Kluže Fort, from Embrasures to The Wedding March
See the permanent exhibition, one of the culture and art events, visit the near Fort Hermann or say "I do". Do not be surprised if soldiers in their uniforms stop you on the road and invite you to see the 1313 show, which you may also see according to the prior agreement in a group.
The History of the Kluže Fort
In the 15th century, the Kluže Fort was a wooden fortification, intended to prevent the Turkish invasions to Koroška. Later on, a stone fortification was built, which was defended by Austrian soldiers from the military of general Napoleon Bonaparte in the 18th century. The fort obtained its modern view in the 19th century, while in the 20th century it played an important role on the Isonzo Front.
Fort Hermann
The Koroška fort on the slope of Mt. Rombon was built as a support to the Kluže Fort, between years 1897 and 1900, i.e. in Austria-Hungary. During the First World War, it was badly damaged by heavy Italian shelling. Today, informative signs have been placed next to the debris of the fort.
Access to Fort Hermann: By foot, from the Kluže Fort, on a wide marked route, which is carved into a rocky slope, through a 100 m long illuminated stone tunnel and then on the left path that climbs the Rombon. The walk to the fort takes a little less than half an hour.
Please note: The fort ruins and the trail are not secured. Visit at your own risk. It is recommended that you bring a flashlight.
The Kluže fort - opening hours 2023
| | |
| --- | --- |
| Month | Opening hours |
| June - September | daily, 10.00—17.00 |
| other | Open for larger groups by agreement |
The Kluže fort - admission prices
adults: EUR 4
secondary school and university students, pensioners, families: EUR 3
groups of over 20 adults: EUR 3
groups of over 20 secondary school or university students, pensioners, families: EUR 2
* There is a 50% discount on admission to the permanent exhibition for audience members of Društvo 1313 performances.
Hiking and mountain trails