Press conference Soča & Giro in Kobarid
15. 4. 2022
A press conference was organized in Kobarid on Friday, April 15th.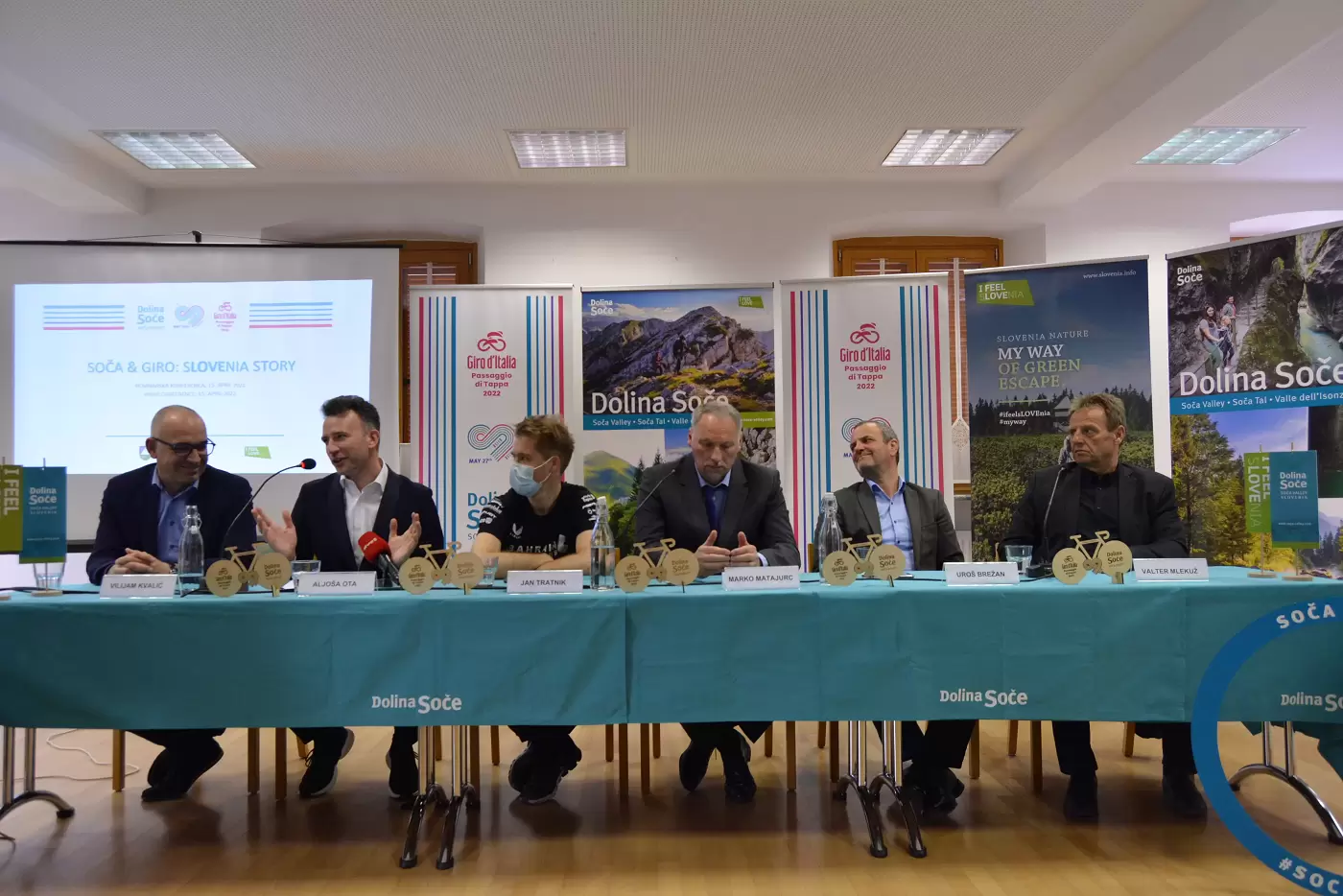 Soča&Giro novinarska konferenca v Kobaridu, ©Andreja Jurkovič
The press conference was attended by:
Jan Tratnik, a member of the Bahrain Victorius cycling team that will compete in the Giro d'Italia,
Marko Matajurc, Mayor of the Municipality of Kobarid,
Uroš Brežan, Mayor of the Municipality of Tolmin,
Valter Mlekuž, Mayor of the Municipality of Bovec,
Aljoša Ota, Slovenian Tourist Board, Representative Office in Italy,
Viljam Kvalić, director of the Soča Valley Tourist Board.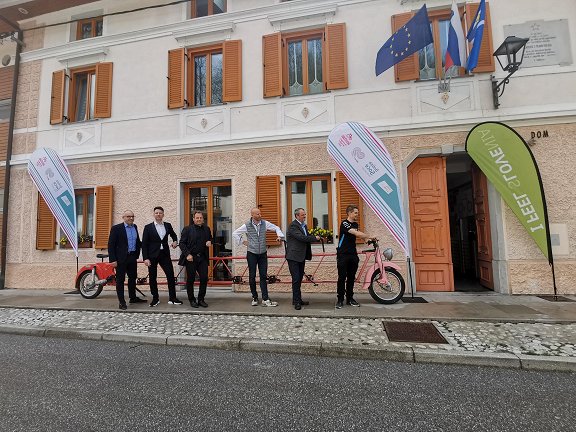 Some statements:
Jan Tratnik, a member of Team Bahrain Victorius, said, "In a few days I will be on my way to re-join my Bahrain Victorius teammates as I will be competing in the Giro 2022 again this year. I am happy and excited that part of the route run through Slovenia and that I will be able to compete at home. It's incredible that the Giro d'Italia caravan will be riding through Slovenia for the second time in two years, but at the same time it's not unusual, as Slovenia has become the cradle of the best cyclists in the world in recent years. I invite all sports and cycling enthusiasts to come to Soča Valley on 27 May 2022 to watch and cheer on the best cyclists in the world, regardless of their nationality or team they are competing for. Turn this unprecedented event in Soča Valley with your cheering and your presence into something really special."
Marko Matajurc, Mayor of Kobarid, said: "I am very much looking forward to seeing the caravan of the best cyclists in our towns and I believe that the same is true for the Mayors of Tolmin and Bovec. We will be very happy to see all those who will come at the end of May to encourage and cheer the cyclists and to rejoice with them in their successes, which will ultimately be ours, as well. I am immensely honoured that this will give our valley another opportunity to promote the sporting, tourist and culinary offer and, above all, the natural features of our beautiful and interesting places. It will be a great day for our municipality of just over 4000 inhabitants and a welcome event that we are all looking forward to with eagerness and enthusiasm."
Valter Mlekuž, Mayor of Bovec, added: "We are all happy and hope with all our hearts that the epidemic is really getting to an end, not least because it has also affected the economic sector in our municipalities, especially tourism. We are happy to be able to get together again, to organise various events and sports. With the forthcoming event, we can once again draw attention to what Soča Valley has to offer as a sports and tourism destination. Soča Valley is an ideal location and a great backdrop for such an important event as a race between the world's best cyclists, but it is also an ideal environment for ordinary cycling enthusiasts. This event is really important for the whole valley, as it will remind people who are looking for an active holiday and beautiful nature of our emerald beauty, our rich offer, our heart and above all our people who welcome visitors with great joy."
Uroš Brežan, Mayor of Tolmin: "Working together and supporting each other is crucial when it comes to creating successful stories, especially in places like Soča Valley. Therefore, the cooperation of the three municipalities of Soča Valley along with the Soča Valley Tourist Board is indispensable when organising such a major event as a stage of the world-renowned Giro d'Italia, which will certainly make a significant contribution to this year's tourism turnout. I am delighted that Soča Valley will be able to take advantage of new opportunities for sport-tourism promotion by positioning itself on the route of this year's Giro d'Italia."
Viljam Kvalić, Director of the Soča Valley Tourist Board, said, "We are expecting a large number of visitors, for whom we have prepared special locations with parking spaces for cars and camper vans, and furthermore, for easier access to the route of the Giro race, public transport will be organised by buses. There will also be some traffic changes due to the race, with complete traffic closures at certain times in the afternoon. All the most up-to-date information related to parking, access and public transport will be available on www.soca-valley.com/sl/giro/giro-2022/, on Facebook and on the Soča Valley Instagram page."
Aljoša Ota, Slovenian Tourist Board, Representative Office in Italy: "The passage of the prestigious Giro d'Italia sporting event in Slovenia will be an exceptional opportunity to introduce the Italian and non-Italian public, which has faithfully followed the sporting events, Slovenia and the places along the stage that concerns it for years. For our country this is a great opportunity for international visibility, to be able to show the world its sporting soul, green spaces and numerous and unique outdoor activities. We are also very pleased that on May 27th there will be the start of the Giro-E e-bike race in the town of Kobarid (Caporetto). Together with the Austrian and German markets, the Italian market is the most important for Slovenian tourism.