Soča Trout Festival 2023
22. 3. 2023 - 22. 4. 2023 / Tolmin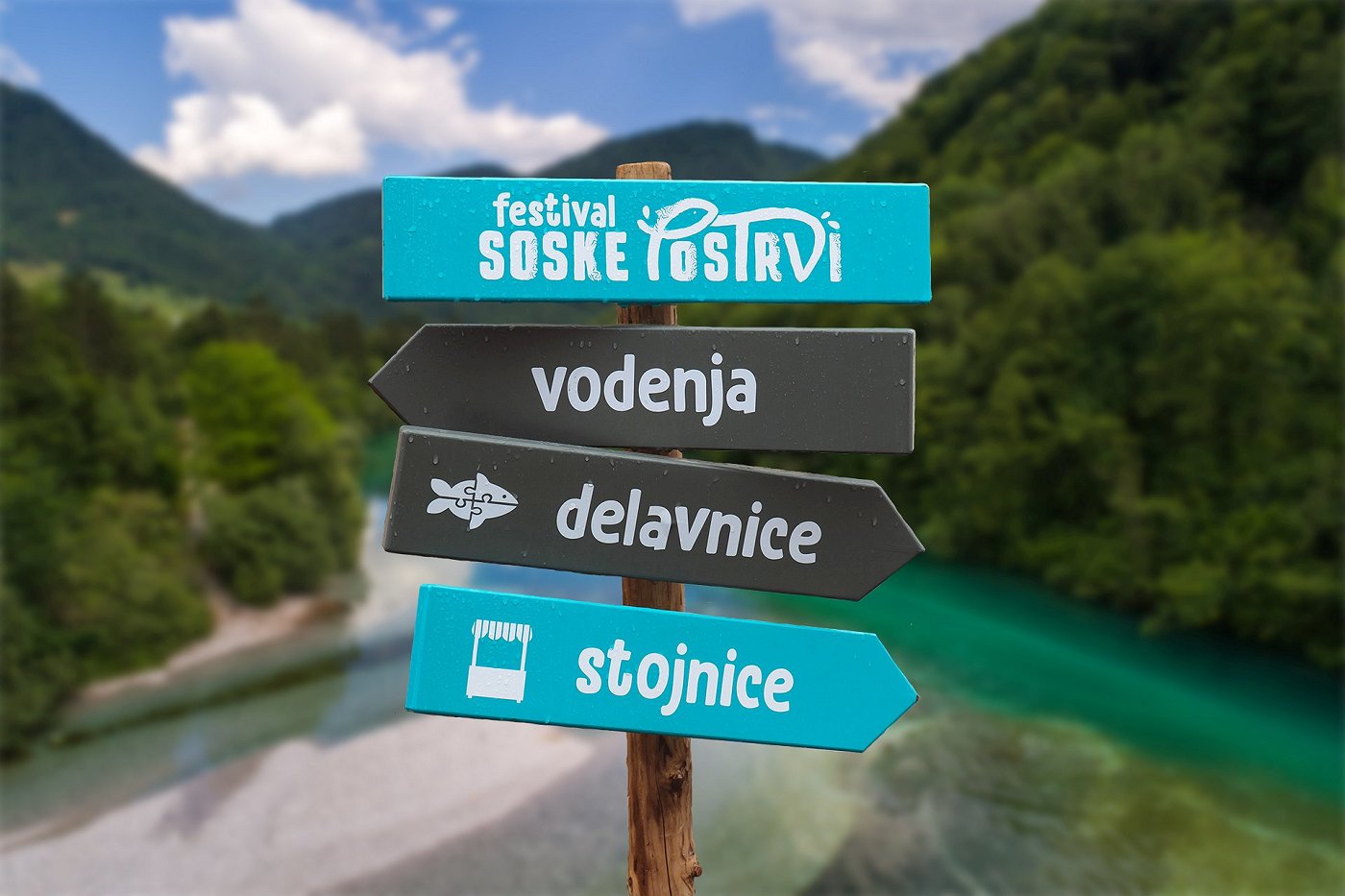 Festival soške postrvi
Between World Water Day on 22 March and World Earth Day on 22 April, we will once again have the opportunity to come together at the events of the Soča Trout Festival, which will take place this year in Tolmin and Kobarid. The programme includes workshops, lectures, clean-up events, and discussions, film screenings, exhibitions, guided tours, nature days and more. The main event for children and adults will take place on Saturday 15 April on the Tolminka hiking trail.

The Municipality of Tolmin, the Tolmin Fishing Family and the Soča Valley Tourism jointly organise and implement the festival.
PROGRAMME
22 MARCH, WEDNESDAY
World Water Day
9.00—18.00
Open day at the Tolmin Gorges
13.00
Free guided tour of the Tolmin Gorges
18.00
World Water Day round table
Be the Change, Ciril Kosmač Tolmin Library
Organiser Zavod Sara Vuri
25 MARCH, SATURDAY
| | |
| --- | --- |
| 8.30 | Meeting of the members Ribiška družina Tolmin |
| 12.00—16.00 | Cleaning action of fishermen along the rivers of the Soča Valley |
27 MARCH, MONDAY
1. APRIL, SATURDAY
12.00
Opening of the fishing season,
Most na Soči, by the Water house
3. APRIL, MONDAY
16.00
Presentation of the Soča Valley Finest as a business opportunity,
Workshop for suppliers of handicraft and food products and culinary workshop for restaurateurs,
Tolmin, Hotel Dvorec
11.—14. APRIL
8.00—12.00
Nature days: OŠ Tolmin, Vrtec Tolmin and VDC Tolmin,
Nature trail along the Tolmin River
12 APRIL, WEDNESDAY
18.00
Opening of the photo exhibition Lepotica je zver (Beauty is a Beast) and screening of short films about fly fishing,
Kobarid, TIC Kobarid
The exhibition will be on display until 5 May 2023
14 APRIL, FRIDAY
10.00
Expert consultation Modern trends in aquaculture,
Knjižnica Cirila Kosmača Tolmin
13.00

Biodiversity research in aquatic and riparian areas with an expert, 24-hour bioblitz, riparian area of the Soča and Tolminka rivers
Pre-registration required at or 051 310 505

Organised by Posoški razvojni center

17.00
Public debate Water management in crisis situations,
Knjižnica Cirila Kosmača Tolmin
15 APRIL, SATURDAY
Tolmin, Tolminka hiking trail
11.00 in 13.00
Free guided tours along the nature trail
Meeting point under the bridge over the Tolminka in Zalog
Organised by Zavod Sara Vuri
14.00—18.00
Tolminke valčkov šum - The Sound of Tolminka Waltzes, a day by the river with activities for children and adults, catering and tastings
#tolminkevalčkovšum
18.30
Katalena concert
Parking is available in the car park of the Kmetijska zadruga Tolmin. In case of bad weather, the concert will be moved to the Tolmin Cinema Theatre and the rest of the activities will take place on Saturday 22 April.
22 APRIL, SATURDAY
World Earth Day
10.00
World Earth DayScreening of the film Kiti, varuhi planeta,
Kinogledališče Tolmin
18.00
(Too) live on a planet that does not grow, lecture and discussion with Lučka Kajfež Bogataj,
Glasbena šola Tolmin
The festival programme will be complemented by cleaning actions by various organisers, lectures and workshops with sustainable themes, book actions and events organised by Cirila Kosmača Tolmin Library.
Until 8 April, the photo exhibition "Guardians of the Rivers" can be seen in the gallery of the Tolmin Cinema Theatre.