The magical corner next to the Virje Waterfall is the right location for lovers of relaxation, people in love and photographers.
The Glijun stream, which is fed by the subterranean waters of the Kanin mountain range, falls into a 20 metre wide and 12-metre-high multi-stranded waterfall, underneath which a charming pool of green emerges, caught between lush growth and moss-covered rocks. Even though the Virje Waterfall invites summer refreshment, the water is icy cold and bathing in the pool under the waterfall is not allowed. The waterfall is an incredible pearl of nature, so we preserve its beauty for posterity.
Virje Waterfall and Glijun Stream; the Mysterious Ways of the Kanin Waters
The Glijun stream is one of the rare karstic springs that never dry up. Sometimes is it characterised by heavy precipitation, which shapes a true water orchestra together with the surrounding streams. In summer, the water level is influenced by the heavy melting of snow in the central part of the Kanin mountain range. The spring water, which emerges among many stones of glacial material, reaches up to 7ºC.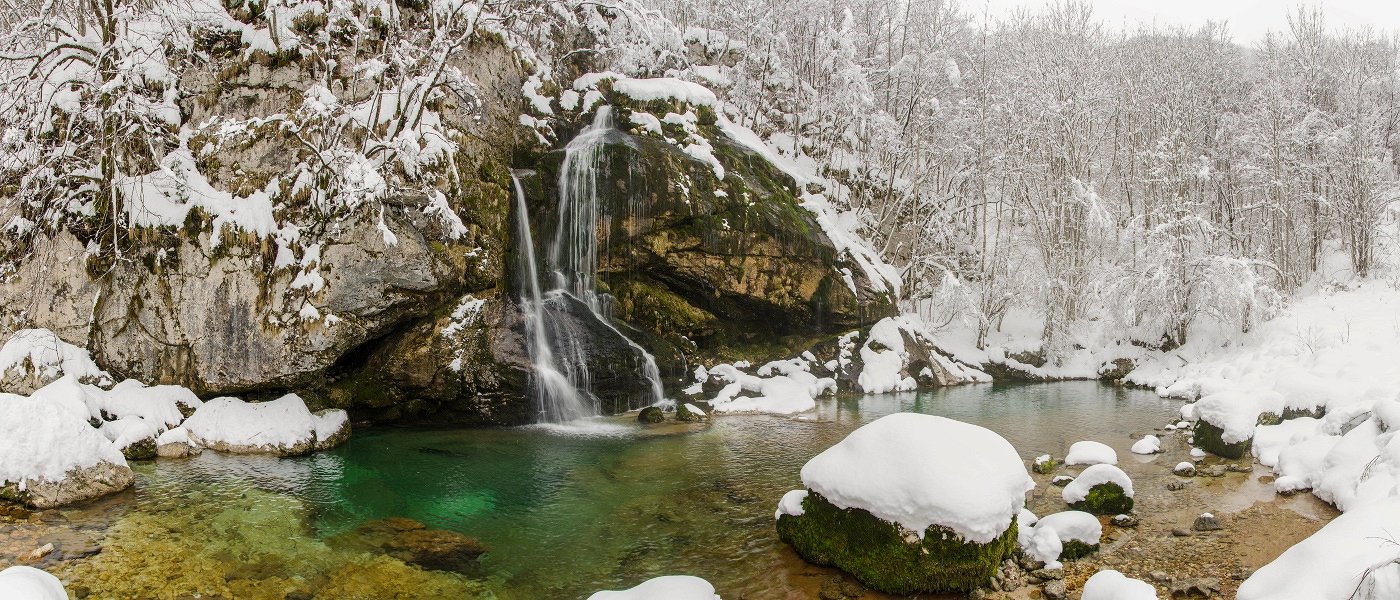 Waterfall Virje in winter time, Bovec, &copyDavid Štulc Zornik
Virje Waterfall - ACCESS
The Virje Waterfall is an excellent idea for a few hours' walk in the Soča Valley. You can visit it by bicycle or on foot, along one of the mysterious ways of the Kanin waters. From the Plužna village along the road towards the artificial lake (hydropower plant), follow the labels for Virje. Before the bridge over the Glijun stream a wide path turns left and downwards (approximately 50 metres). See the karstic source of the Glijun stream and the nearby artificial lake Plužna.
Virje Waterfall - PARKING FEE
5 € for cars and 10 € for other vehicles. The price is valid for 2 hours of parking.
Access is not allowed for motorhomes and buses.
BOVEC HOP-ON HOP-OFF for Virje Waterfall
In July and August organized public transport is available >