This pristine gorge is one of the most beautiful natural sights on the Soča River and an important natural treasure of the Triglav National Park.
The emerald green pools are intertwined into a 750-metre-long meticulously smoothed out gorge that is only a few metres wide and 15 metres deep.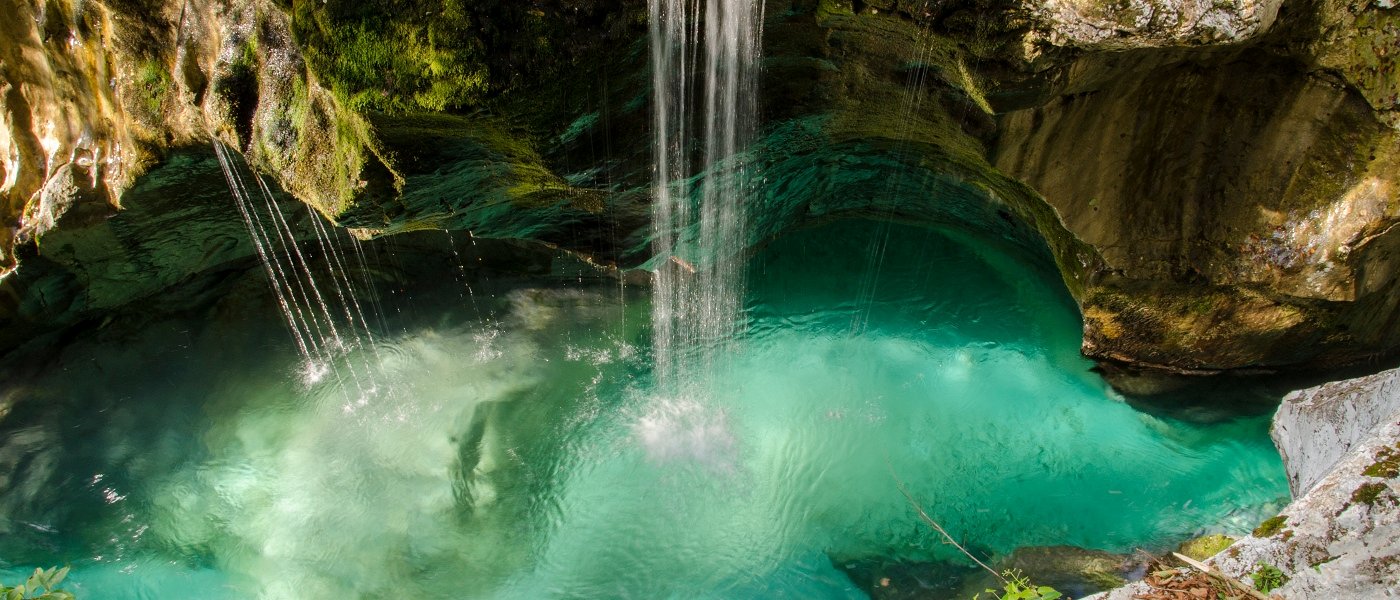 The Great Soča Gorge, Bovec, &copyDavid Štulc Zornik
The Great Soča Gorge, a Natural Treat for the Eyes and Soul
After rainy seasons, the overhanging walls capture several-metre-high water curtains and beams of sunlight, which is drowned in the clear depths of the emerald green beauty. This is the location where the vibrant Soča River shows its true characters and shines in all its beauty, so do not forget your camera.
You may admire the Great Soča Gorge on foot, if you embark on the famous Soča Trail from the wooden hanging bridge at the start of the gorge or savour the emerald beauty at the end of the gorge, where the rapids of the Soča River become calm. This is where visitors like to sit the most and from the shores admire the daring swimmers, who dive into the icy cold river in the hot weather.
The Great Soča Gorge, the Entry Point for Navigation on the Soča River
The entry point for sport navigation, the Great Soča Gorge, lies at the end of the gorge. Navigation through the Great Soča Gorge is not allowed for safety reasons.
The Great Soča Gorge - ACCESS
The end of the Great Soča Gorge is on the Bovec-Vršič regional road, approximately 11 kilometres from Bovec (turn right for the Lepena Valley, cross the bridge and park). The upper part of the gorge is another kilometre away from the turn for Lepena on the regional road (parking area with an information sign).
The Great Soča Gorge is not completely accessible and can only be seen in some spots on the marked forest footpath, which leads along the left side from the start to the end of the gorge. In humid, cold and winter months, we advise against sightseeing in exposed places due to the possibility of slippery and icy areas.