6 most beautiful experiences for an active romantic getaway in the Soča Valley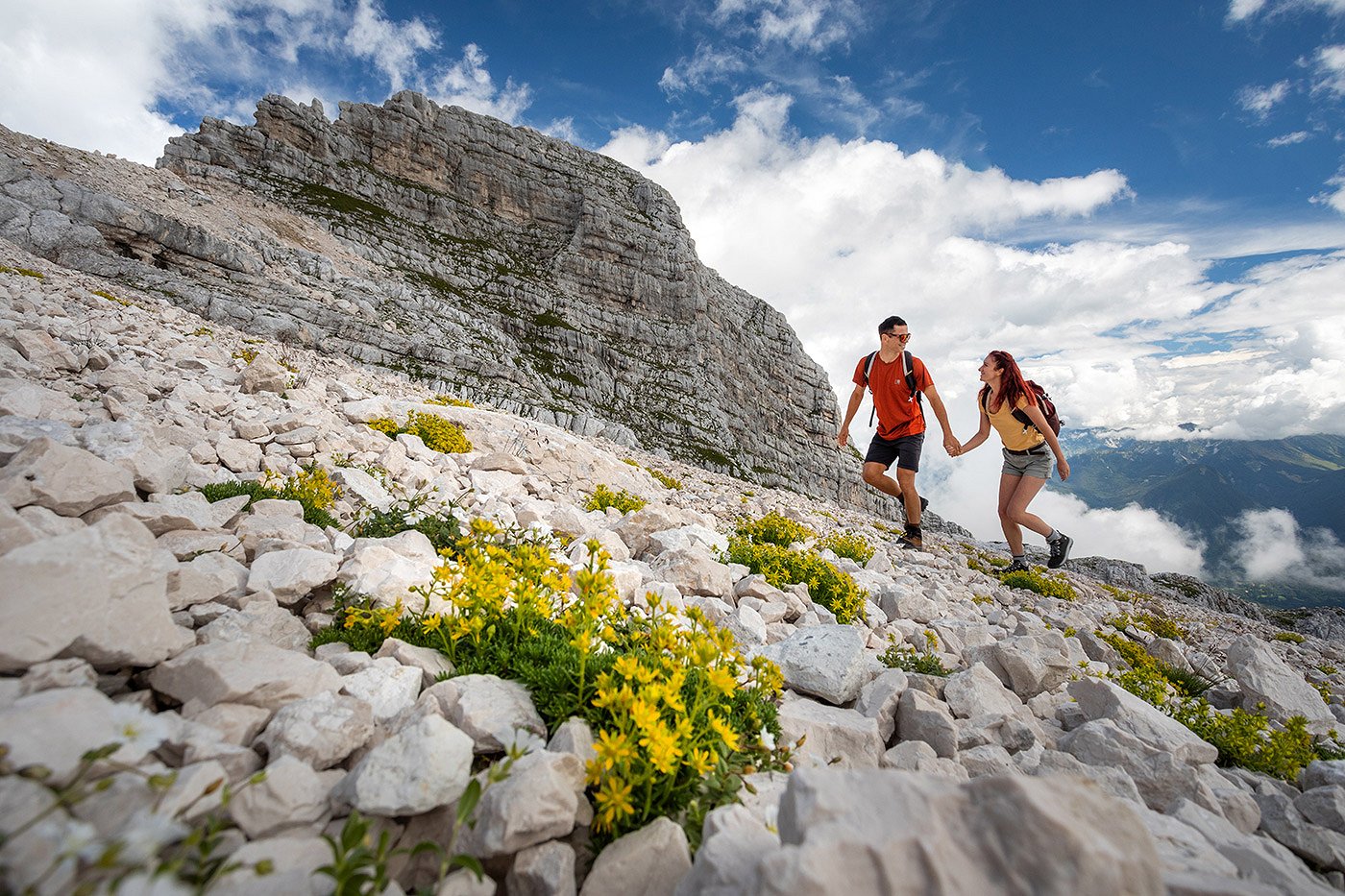 Hiking on Kanin Mountain, &copyJošt Gantar
1. KANIN CABLE CAR FOR HIKERS
See the Prestreljeniško okno (Prestreljenik Window) and the natural bridge on Kanin;
climb on via ferrata from Sedlo to Prestreljeniško okno (guided tour, suitable also for families)
meet the high mountain Karst phenomena on the Kaninsko pogorje nature trail.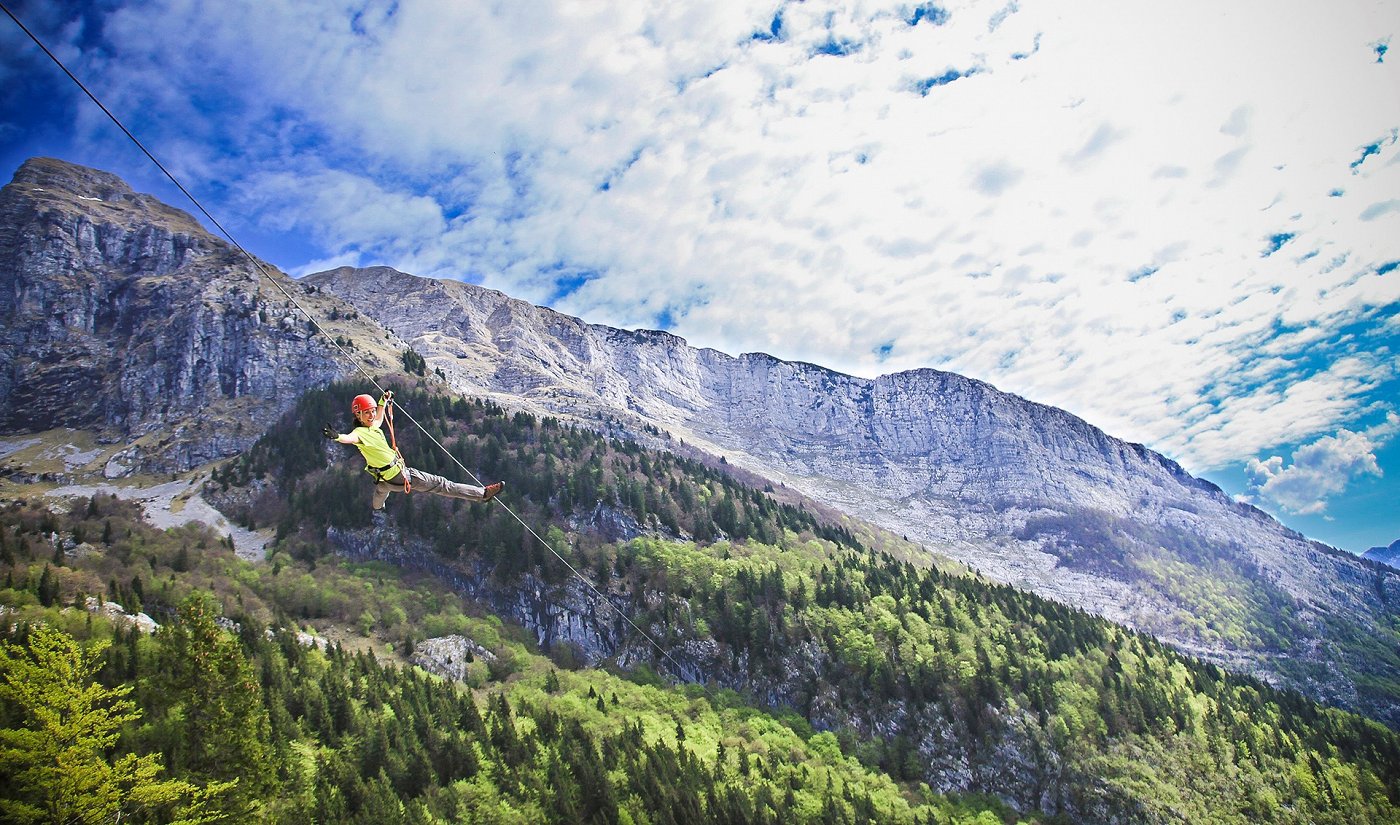 Zipline Kanin, &copyAdrenalin Park Bovec
2. ZIPLINE IN TWO: MAKE YOUR HEART BEAT
Love is in the air! ;) Lose the ground under your feet for a change and embark on an unforgettable flight. The adrenaline enthusiasts can choose between two zipline parks, which are among the top European parks of this type regarding their size and the natural beauty of the surroundings.
Check the offer of the Zipline in Soča Valley >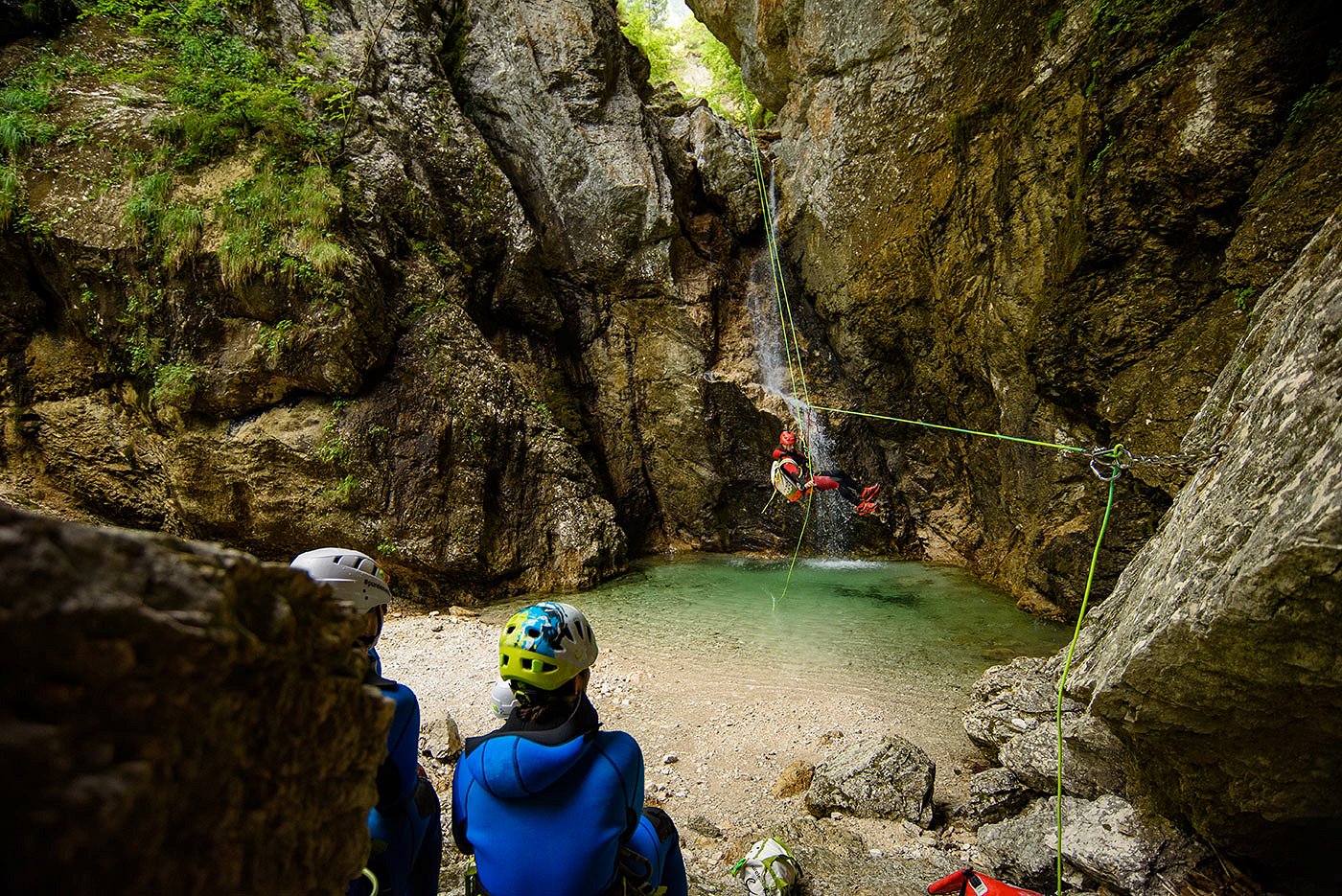 Canyoning on Fratarica, Log pod Mangartom, &copyŽiga Humar
3. CANYONING: CLOSE TO THE HIDDEN CORNERS OF THE SOČA VALLEY
Refresh yourself in the mysterious world of wild canyons, picturesque waterfalls and crystal clear pools.
Check the offer of the Zipline in Soča Valley >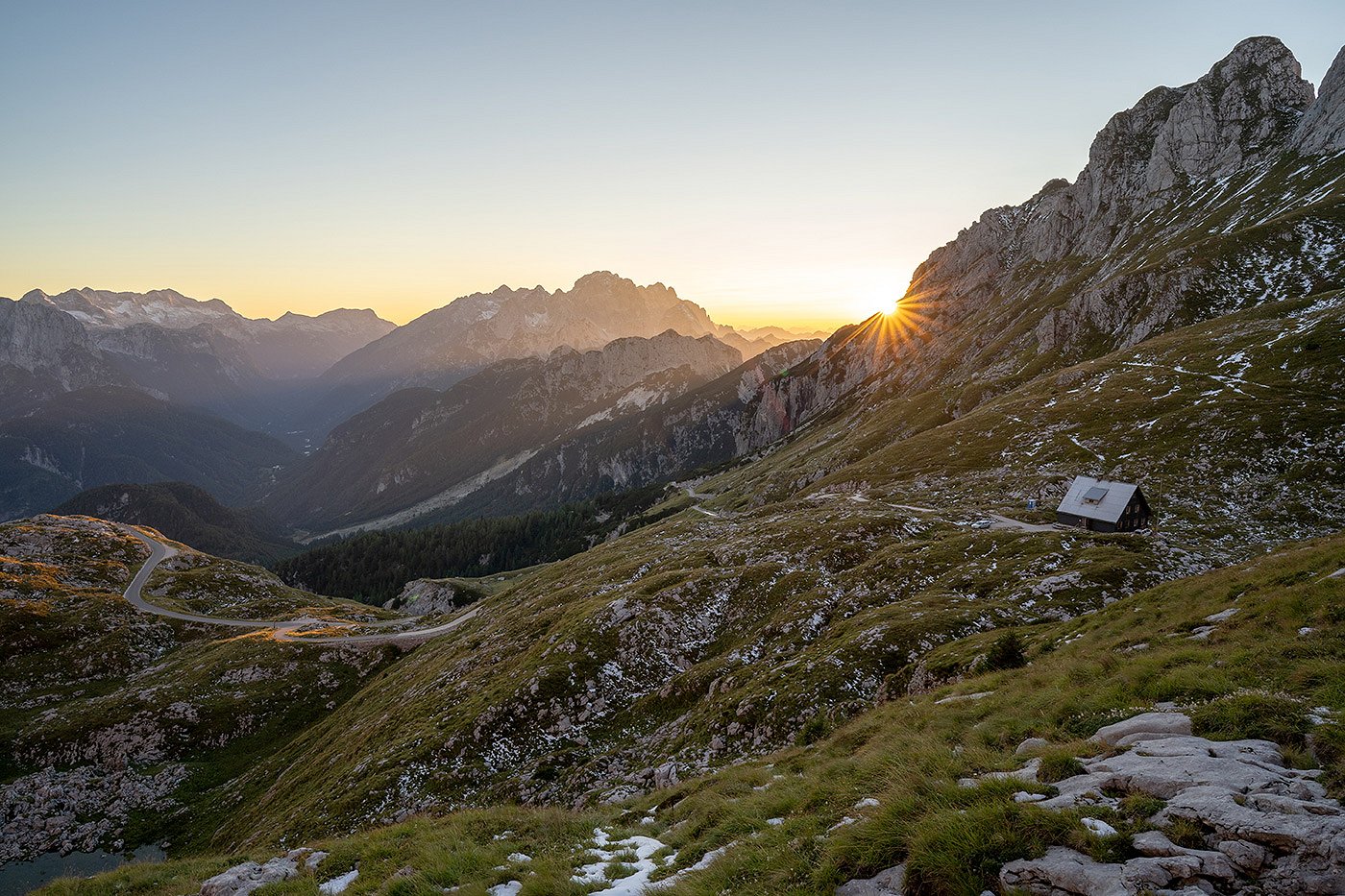 Sunset over Mangart hut, &copyKlemen Mišič
4. MANGARTSKO SEDLO (2055 m)
The highest alpine road in Slovenia leads to a botanically rich area with an incredible view, located under Mangart, the third highest peak in Slovenia.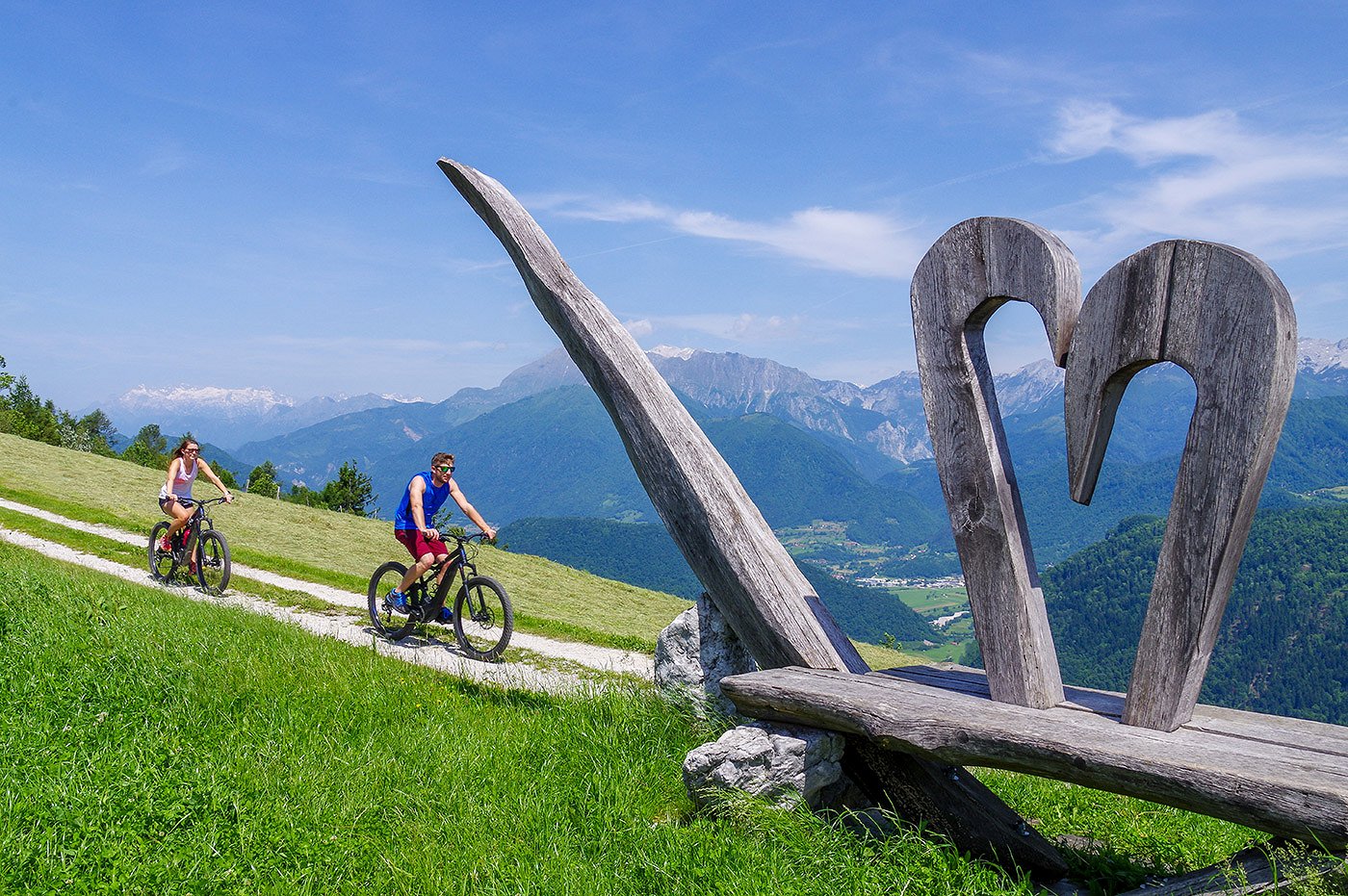 Biking on Široko, &copyMiljko Lesjak
5. CYCLING
Dolino Soče lahko raziskujeta tudi s kolesom. Zanimive so zložne poti okoli Bovca, kjer na poti ne manjka zanimivosti, ki si jih lahko ogledata. Še posebno lepe so poti, ki vodijo čez zasanjane brvi nad reko Sočo, ob kateri se lahko na kratko osvežita. Če bi združila kopanje in kolesarsko potepanje, zavrtita pedala v Breginjski kot in zaplavajta v Nadiži. Prodnato obalo Nadiže ponekod objemajo vrbe, pod katerimi lahko poiščeta idealen kotiček za lenarjenje. Na poti nazaj poskrbita za prazne želodčke in se ustavita v kateri izmed restavracij Kobariškega gastronomskega kroga.
Čudovito je tudi kolesarjenje čez Kolovrat, ki razvaja z razkošnimi razgledi in romantičnimi sončnimi zahodi. Atmosfera, ki ji ne bi pripisali srditih bojev soške fronte, o katerih priča tamkajšnji muzej na prostem. So vama ljubši nižinski kolesarski izleti? Podajta se na kolesarski izlet po stari cesti od Tolmina do Kobarida.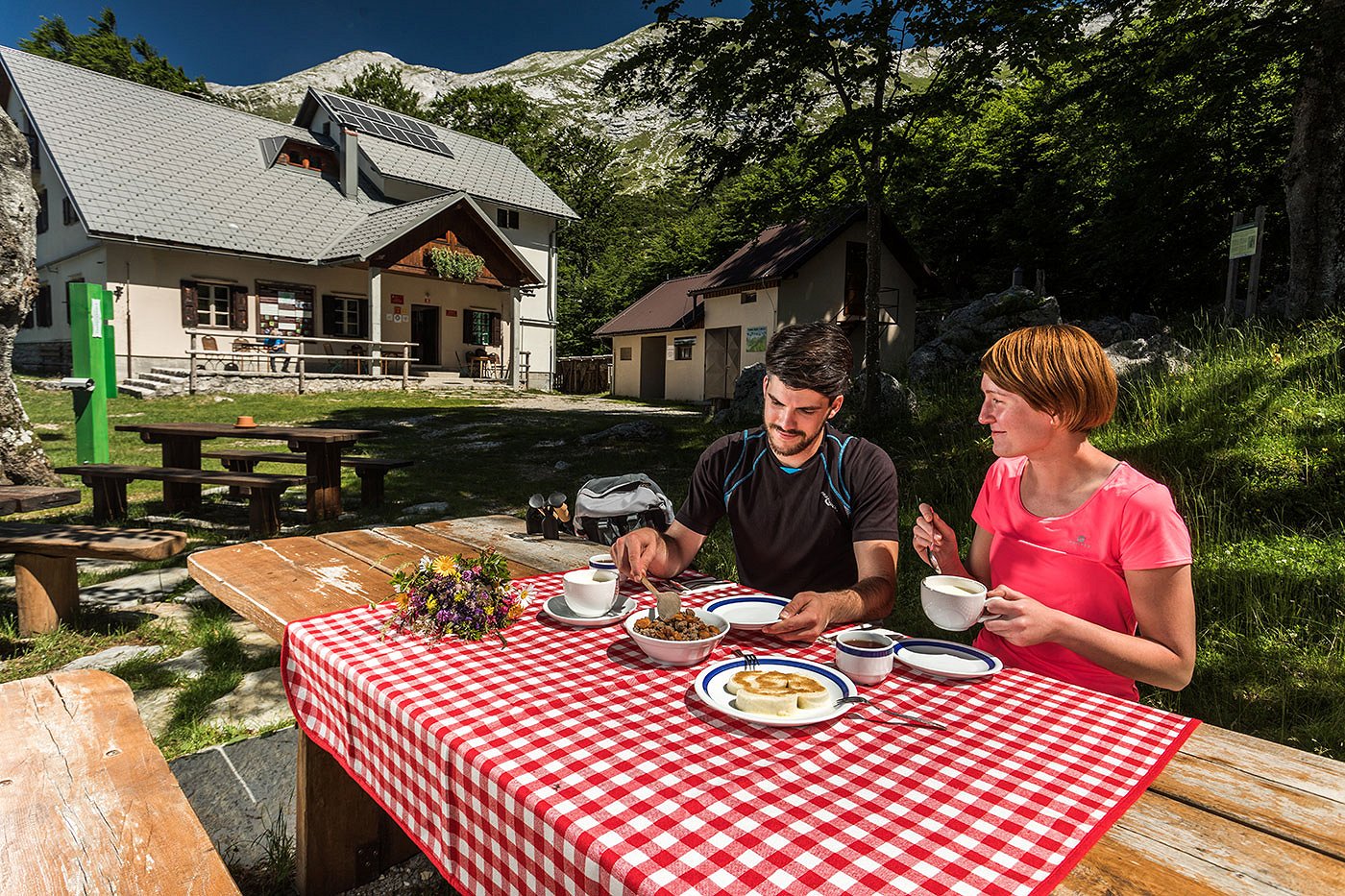 Razor mountain hut, &copyJošt Gantar
6. CULINARY
Ker gre vsaka ljubezen skozi želodec, ne pozabita na omamno dobre okuse, ki so doma v Dolini Soče. Kobariške gostilne so prava nebesa za gurmanske užitkarje. V Hiši Franko ustvarja svetovno priznana kuharska mojstrica Ana Roš, ki na božanskih krožnikih na vrhunski način postreže, kar nudi narava.
Če vaju zanimajo tradicionalne jedi Doline Soče, si v Kobaridu privoščita slastne kobariške štruklje, na Bovškem pa okusita bovški sir in se posladkajta z buškimi krafi, sladico iz bovške tepke, ki so jo nekoč domačini jedli le za praznik. Tolminskega nikakor ne zapustita, ne da bi poskusila friko, tradicionalno jed iz krompirja in sira. Se vama že cedijo sline? Pokukajta v kulinarično zakladnico Doline Soče.