6 most beautiful experiences for families in Soča Valley
Want to spend your family holiday in mesmerizing kingdom of Soča river? Soča has always been a magnet for visitors from around the world therefore the fact that Disney chose it for filming The Chronicles of Narnia: Prince Caspian doesn't come as a surprise.
Soča Valley is a fairytale by itself and ideal location for family vacation.

In the arms of Triglav National Park's stunning nature and the mighty Julian Alps everyone's child dreams will come true - unforgettable adventures, long lasting memories and new friendships are made here. Discover the world where time runs in the rhythm of pleasant and active experiences.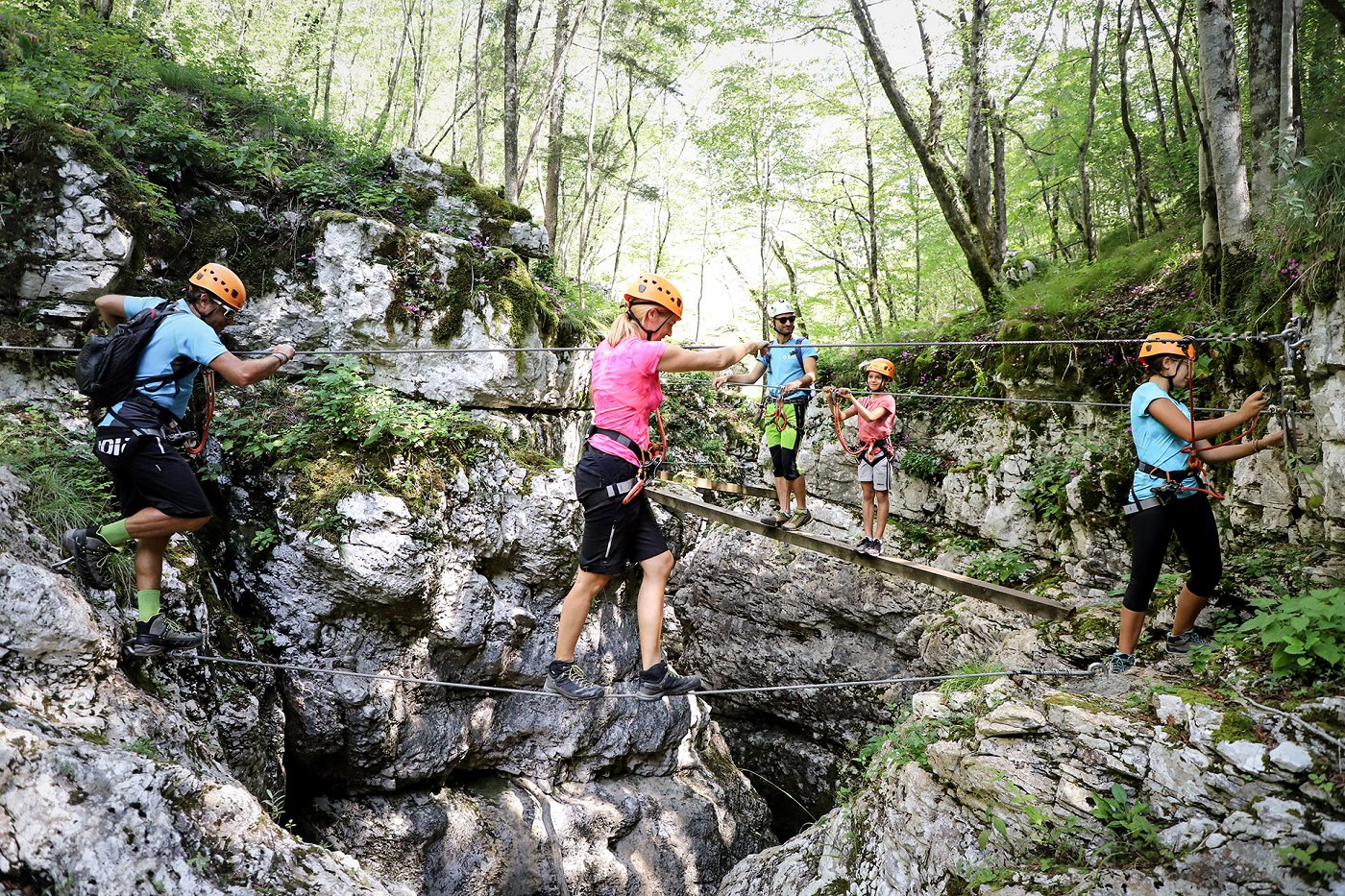 Adventure Park Srnica, Bovec, &copyUrša Drofenik
1. READY FOR SOME ADRENALINE? FAMILY TRIP TO ADVENTURE PARKS
Adventure parks can be found in Kobarid, Bovec, next to Plužna village and in Log pod Mangartom. The specialty of the adventure parks in the Soča Valley is that they are reasonably placed and do not merely offer the adrenaline experience, but also the exploration of nature and are an excellent choice for families.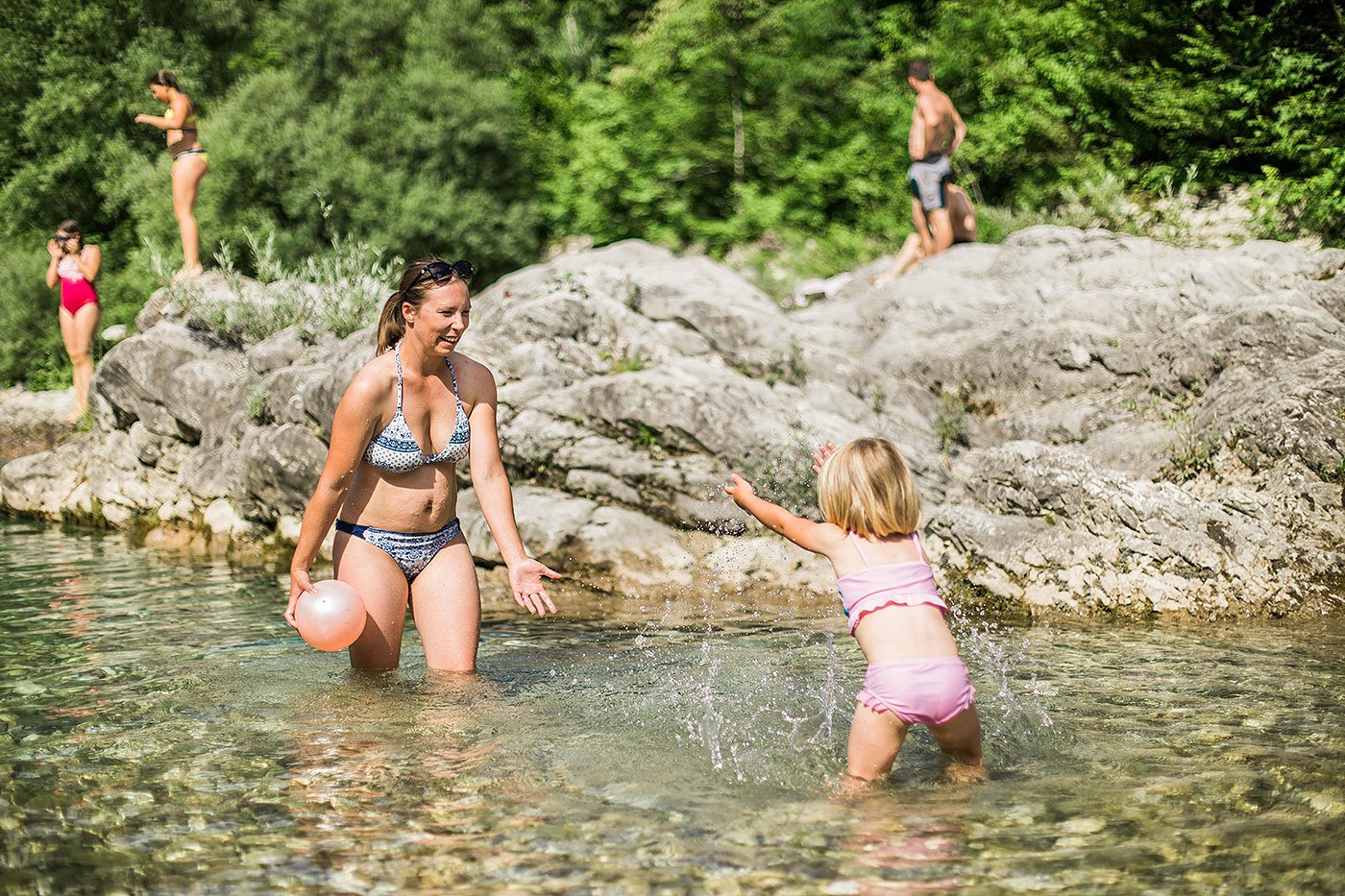 Bathing in Nadiža river, Kobarid, &copyKatarina Rutar Ipavec
2. ALPINE BEACHES AND NATURAL BATHING AREAS - SUMMER REFRESHMENTS IN SOČA VALLEY
When temperatures rise in the summmer months it's time for real refreshment! Take your swimsuits and towels and JUMP in the clear waters of Soča Valley. Pebble beaches, crystal clear rivers and mountain backdrop are ideal for hanging out with your friends and family. Natural swimming pools and bathing areas are located all along the valley. The brave can try how cold is Soča river, but more family friendly are warm Nadiža and green-colored Idrijca.
Despite low water temperature Soča river invites everyone to take a dip in turquoise river pools. Nadiža river is slower and therefore much warmer than Soča so is really popular among families with children. In the summer the water temperature can rise above 20°C and as the legends say has even some healing powers. Banks and beaches are surrounded by willow trees that provide shade for summer reading. Local campsites also offer sports fields and playgrounds for children. For those that prefer deeper waters to swim and jump Idrijca river offers some beautiful spots – locals try to keep the best one's for themselves so asking for a tip will be rewarding. In the hot summer months Idrijca water temperature can rise to 22°C.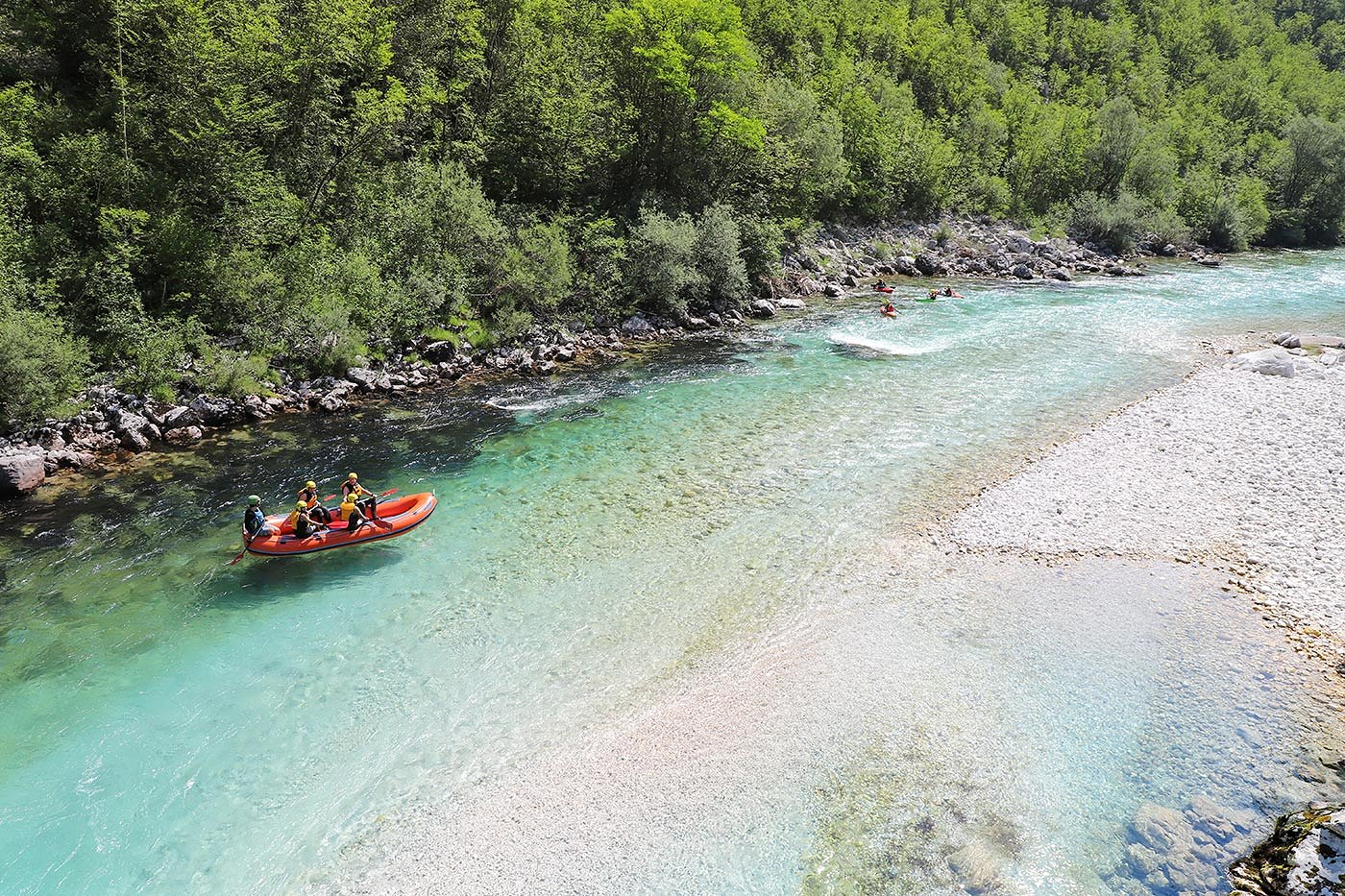 Rafting on the Soča river, &copyUrša Drofenik
3. WATER GAMES ON THE SOČA RIVER: FAMILY EMERALD RAFTING IN A KAYAK SCHOOL
Descent with an inflatable boat on the emerald River Soča (rafting) is one of the five most beautiful adventures in Slovenia. When the water level is adequate, rafting is suitable for all generations, families, the young and the old alike.
Even nicer experience is kayak school. Accompanied by a guide, you can learn the first strokes on the lake near Most na Soči, and then bravely experience the playful flow of the Soča River.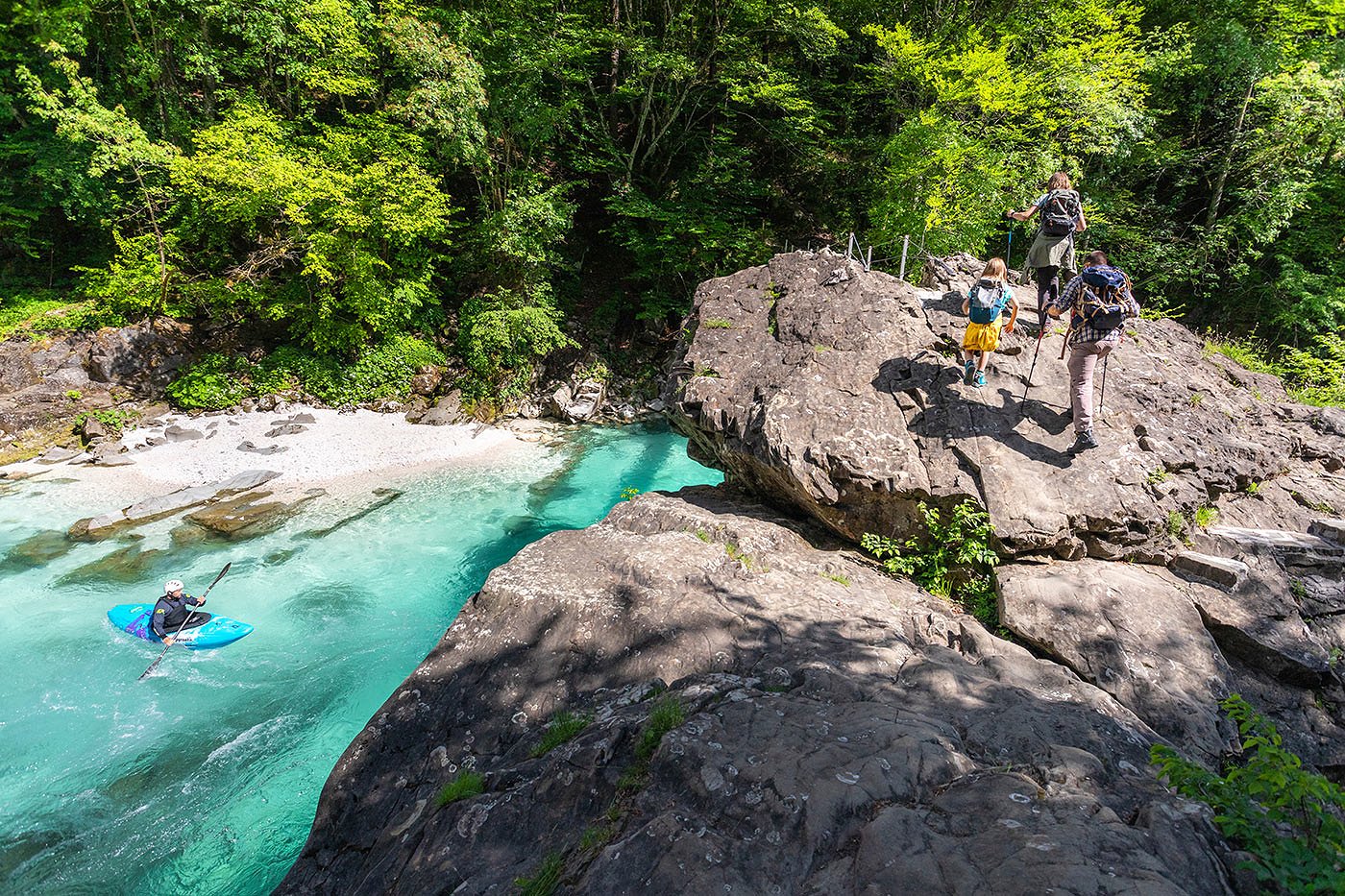 Family hiking and kayaking, &copyJošt Gantar
4. EXPAND YOUR HORIZONS - HIKING WALKS IN THE SOČA VALLEY
The Julian Alps and the Soča Valley have always been full of powerful stories and legends. Here are the Tale of the Golden Horn, stories written by the famous Isonzo front and indescribably beautiful natural pearls that take your breath away. If you are at least a little curious and at the same time like to explore on foot, set out on themed trails in the Soča Valley.
The Walk of Peace connects the heritage of the WWI, during which open-air museums such as Kolovrat and Ravelnik are especially interesting for children. Mysterious taverns, tunnels, bunkers, observatories are another eloquent memory of the former angry battles.
The photogenic Soča Trail, the wild Tolmin Gorges and many other easy hiking trails fill you with new knowledge and beautiful memories.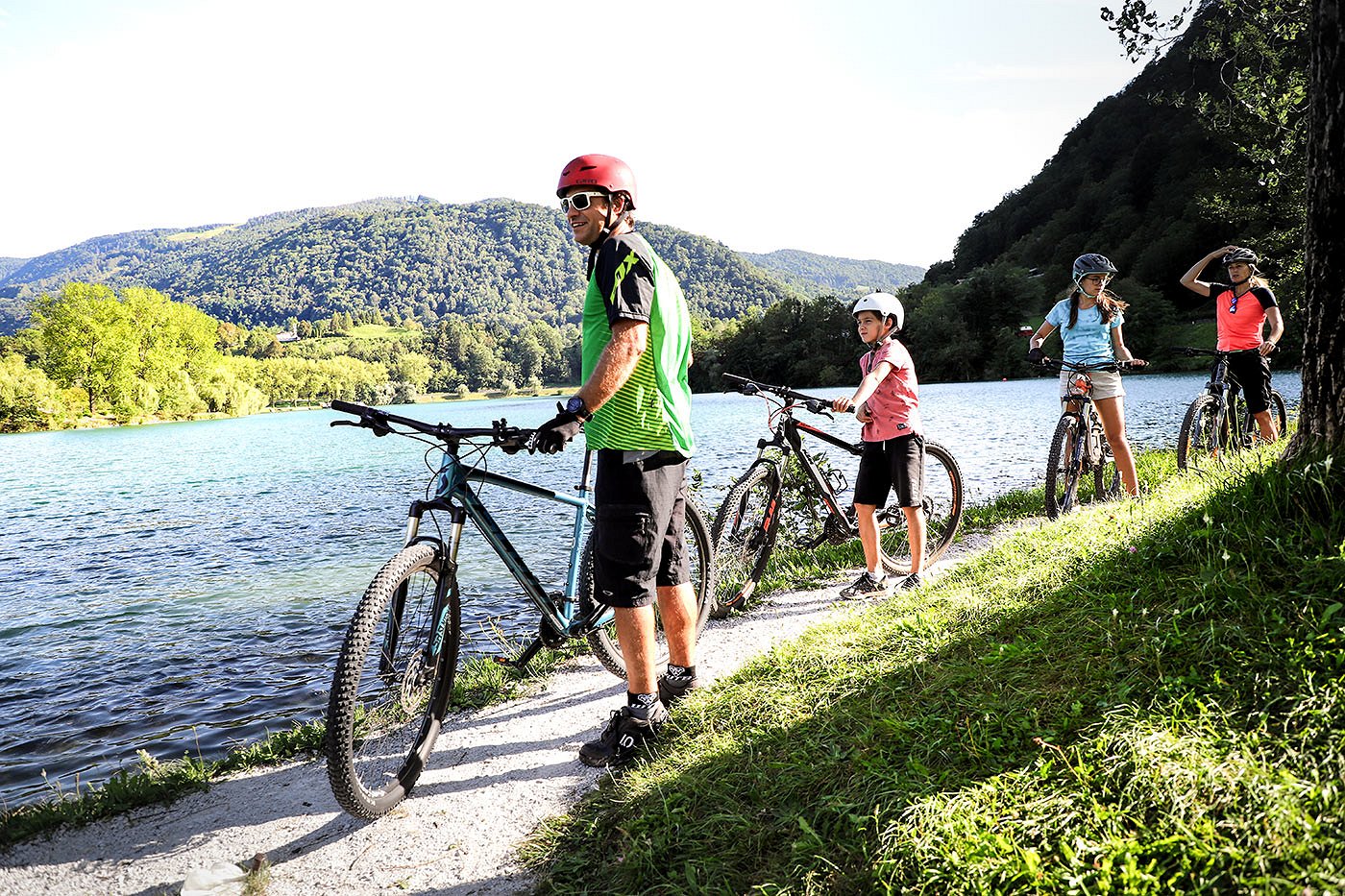 Cycling, &copyUrša Drofenik
5. CYCLING FAMILY TRIP
If you prefer active nature exploration on two bikes, hop on a bike! Picturesque cycling routes for families run in the most beautiful corners of the Julian Alps and the Soča Valley. Shady forest shelters, winding side roads, paths along the refreshing Soča and a varied scenic landscape such as the one below the peaks of Kolovrat - this is a show of nature anchored in the heart.
Check out the possibilities for your cycling trip with your family in the Soča Valley!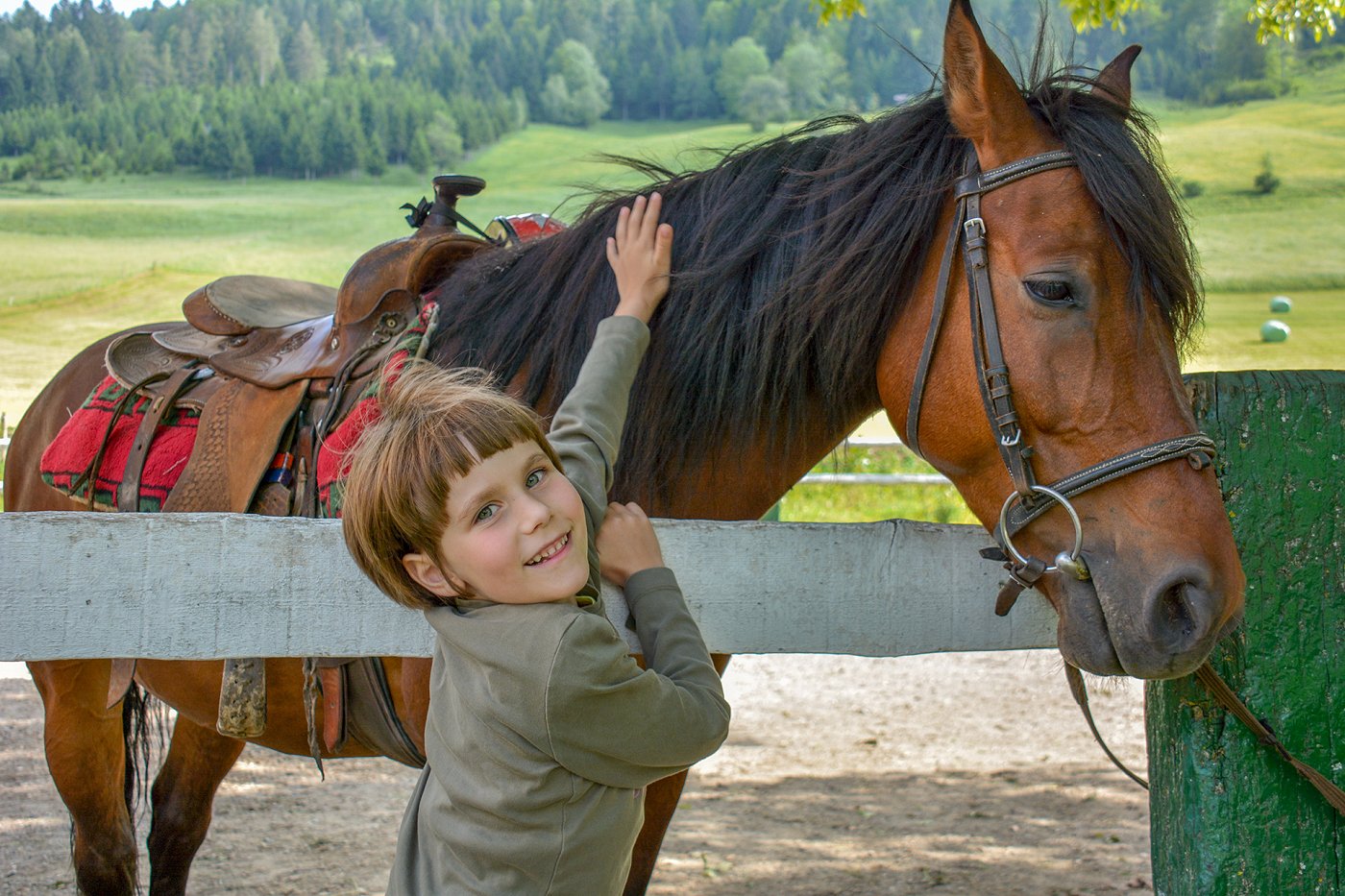 Horseback riding in the Soča Valley, &copyDanilo Lesjak
6. WITH THE FAMILY ON HORSE RIDING
What could be more beautiful than a pleasant day with the family and getting to know the Soča Valley from a horse saddle? This is a real family adventure!
Feel the spark of your little ones as they help brush and saddle this fiery animal, circle the fence safely a few times, or even take a short walk to the Soča River.
For guided horseback riding and riding tours accompanied by experienced riders, visit the horse riding providers, where they also organize equestrian children's workshops.
ACCOMMODATION