2022 Giro-E to take place from 10 to 29 may
The Giro-E is a cycling tourism event included in the calendar of the Italian Cycling Federation (FCI) and organized by the RCS Sport Spa during the Giro d'Italia, following the same route and on the same dates. The event is open to all cycling enthusiasts, amateur cyclists or former professional athletes, so they too can experience the thrill of riding the routes of the Giro d'Italia on the same days as the Corsa Rosa.
The Giro-E runs along the same route as the main cycling event, the only difference being the starting point of the stage. The event consists of 18 stages ranging from 70 to 115 kilometers per day.
The cyclists ride electric road bikes with the help of pedals provided by each team. Participants finish at the same finish line as the Giro d'Italia, under the same finish arc, at least one hour before the planned finish of the central race.
Giro-E will take place on 27 May 2022, at 12.50
Start: Kobarid
Destination: Santuario di Castelmonte
Length of stage Giro-E: 56 km
Difficulty: 3
The route: Giro-E starts in the main square in Kobarid. After a few introductory kilometers, cyclists can already expect a demanding 13 km long ascent to the Kolovrat mountain ridge.
Giro-E and description of the 16th stage: www.giroe.it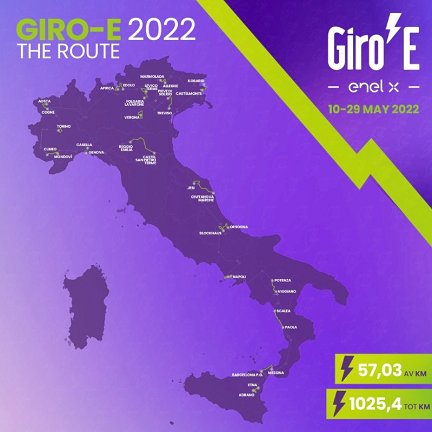 GIRO-E programme in Kobarid
9.55 Opening of the Green Village
10.00 Presentation of the Giro-E teams
11.05 Cultural programme in two languages
11.35 Watch the race through Italy on the big screen with the moderator Ervin Čurlič
12.25 Presentation of the Giro-E flag to the Mayor of Kobarid
12.50 Start of the Giro-E
14.00 Caravan of vehicles in front of the Giro
Slovenian promotional team
There are 15 registered teams, plus the team formed specifically for the 16th stage Giro-E.
Team: Filip Flisar, Ana Bucik, Matevž Melinc, Tanja Žakelj, Gregor Sobočan and Boris Premužič.
Sport director: Robi Jenko
Accompanying vehicle: meblojogi® van
Maglia PISTACCHIO powerd by ENTE TURISMO SLOVENIA
Maglia PISTACCHIO is the jersey of the Winner / Leader of the Mixed Regularity Trial Classification