Test your strength and perseverance at the Challenge 2 Kolovrat
From 1 June to 30 September 2023, we challenge you to cycle the toughest climb of this year's Tour of Slovenia.
Start: Volče, bifore the climb to Kolovrat (Solarij)
Finish: Outdoor museum Kolovrat
Climb Kolovrat where spectacular views await your reward.
Why Challenge 2 Kolovrat? This year we are hosting the second Strava Challenge in honour of the Giro d'Italia and we are looking forward to the 4th stage of the Tour of Slovenia, which will take place in the Soča Valley on 17 June.
From 1 June 2023 to 30 September 2023, we challenge you to cycle the toughest climb of this year's Tour of Slovenia.
> From all participants, we will draw a winner to receive a T-shirt by 1st July 2023.
> The challenge is open until the end of September, where the fastest three (men's category and women's category) will receive practical prizes from the Soča Valley.

Rules of participation
> Use the Strava app and have a publicly visible profile.
> Find Challenge 2 Kolovrat
> Use of electric bikes does not count for the speed win.
> Follow the Soča Valley Facebook profile, where we will publish the names of the winners in early July and early October.
> More information at info@dolina-soce.si.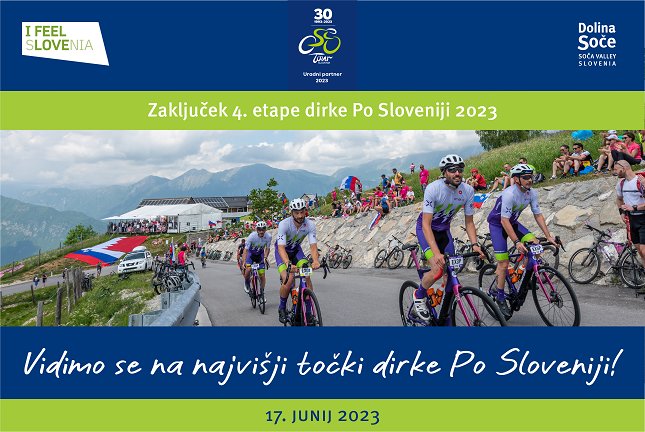 Prize at the top
Once you've reached the top, you can walk through the trenches, tunnels and caverns and relive the memory of an unfortunate, but important, event from a hundred years ago. Idyllic views will take you from the Adriatic Sea and over the green hills to the mighty Julian Mountains. The Kolovrat ridge is accessible from both Kobarid and Tolmin, and the roads are asphalted and less traveled.
The Soča Valley also offers many other cycling and hiking trails suitable for all levels of fitness and for all generations. Alpine air salted with the Mediterranean, excellent cuisine, natural wonders and unforgettable experiences will make your week and your year. Those who come will fall in love with the Soca forever.
Test your strength and perseverance in the Race across Slovenia challenge.