For foodies and hikers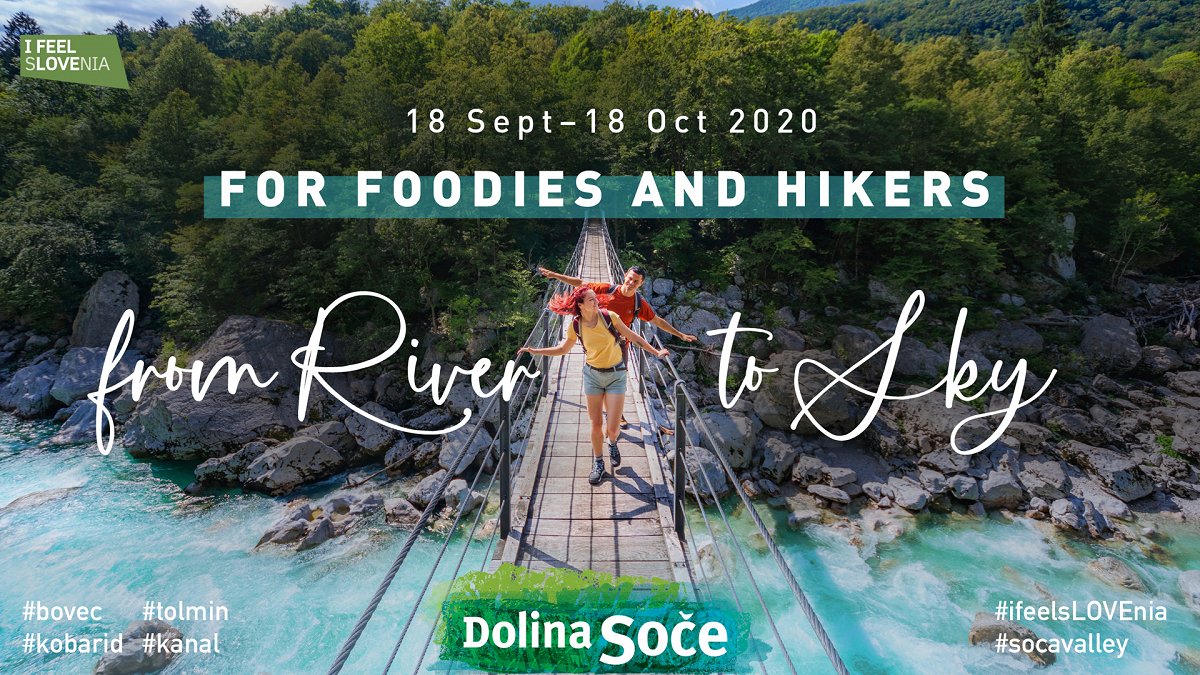 From river to sky lead the best routes of this autumn. In 4 weeks, from 18 September to 18 October, you can experience 40 hiking and gourmet treats in 4 areas of the Soča Valley. Put together your own perfect combination of guided hiking and biking tours in the Soča Valley. Spice up the tours with autumn menus, available all month at the selected local restaurants in Kobarid, Tolmin, Bovec and Kanal.
The traditional Soča Valley Hiking Festival, Jestival and Frika fest have had a change of direction this year. The hiking trails have been intertwined with culinary stops and the result is a new autumn direction. Scroll through these special signposts of experiences and find your personal gourmet and hiking route of this autumn. We have prepared for you a map of experiences, which can be explored to suit your own taste, as much as you like, all autumn long.
Hotel Hvala - Restavracija Topli val

T: 00386 5 38 99 300
E:

smoked duck breast
homemade potato gnocchi with venison ragout
trout fillet, celeriac cream, basil oil
Kobariški štruklji (a traditional local dessert) of nonna Pepca

The price of the Jestival menu is 33 €.

The menu is available by prior reservation.

KOBARID

Turistična kmetija Jelenov breg pod Matajurjem

T: 00386 41 494 560
E:

pockets stuffed with cottage cheese, butter and cheese
vegetable minestrone
mixed meat (venison, pork, chicken breed on their farm)
potatoes and daily side
seasonal salad
walnut and chestnut Kobariški štruklji (a traditional local dessert)

The price of the Jestival menu is 25 €.

The menu is available by prior reservation.

KOBARID

Gostišče Jazbec

T: 00386 5 38 99 100 | 00386 41 570 126
E:

autumn mushroom soup
grilled polenta with Tolminc cheese and Karst prosciutto
pork tenderloin, Idrijski žlikrofi (traditional dumplings), zucchini in sauce
Kobarid štruklji (a traditional local dessert)

The price of the Jestival menu is 24 €.

The menu is available by prior reservation.

KOBARID

Postaja Poljana

T: 00386 41 398 587
E:

lamb carpaccio
asparagus soup
lamb with side dish
Kobariški štruklji (a traditional local dessert)

All the lamb and asparagus are from their organic farm Tonkli.

The price of the Jestival menu is 25 €.

The menu is available by prior reservation till 11. October.

KOBARID

Kmetija in okrepčevalnica Robidišče

T: 00386 41 332 668
E:

gnocchi with goulash, gnocchi with cottage cheese and wild garlic
oven-baked lamb, polenta (a traditional dish of boiled cornmeal) and frika (a local dish made of potatoes and cheese), oven-baked potatoes, mixed salad
Kobariški štruklji (a local traitional dish)

The price of the Jestival menu is 35 €.

The price also includes a welcome drink (sparkling wine).
Menu is available by prior reservation.

KOBARID

Hiša Polonka

T: 00386 5 99 58 194
E:

Roast beef 1973
Polonka's Frika
Kobarid štruklji

The price of the Jestival menu is 28 €

The menu is available by prior arrangement.

KOBARID

Okrepčevalnica Kaninske legende

T: 00386 41 313 863
E:

Appetizer: čompe an skuta or a slice of sheep cheese - Cheesemaking Ostan
Main course: Jota with local sausage - Alpija
Dessert: original buški krafi - Paulačinka

Menu price: 15 €

The menu will be available for lunch between 11:00 and 15:00 from Monday to Sunday

BOVEC

Gostilna Metoja

T: 00386 5 38 89 361 | 00386 41 503 551
E:

Metoja's stew
Trenta krafi

Menu price: 11 €

The menu is available every day from 12.00 to 20.00, except TUESDAY, when we are closed.

BOVEC

Gostilna in pizzerija Pri Martini

T: 00386 5 389 92 51 | 00386 31 603 503
E:

Tolmin frika with home-grown chicory,
homemade trout with Tolmin-style polenta,
Tolmin-style turkey steak with cottage cheese štruklji,
soaked walnut štruklji.

TOLMIN

Ekološka turistična kmetija Pri Lovrču

T: 00386 5 381 11 54 | 00386 31 548 383
E:

meni 1 – Frika

Frika with polenta and salad

meni 2 – Jota

Menu price: 13 €

Available all weekends on Fridays, Saturdays and Sundays from 12h to 17h,
prior reservations required on 00386 31 548 383 (Marija).

TOLMIN

Gostilna Labrca

T: 00386 51 634 255
E:

POSOČJE PLATE

Cold appetizer: POTATOES WITH CHEESE
Main course: FRIKA LABRCA
Dessert: KOBARIŠKI ŠTRUKELJ

Menu price: 18 €

TOLMIN

Okrepčevalnica Na skednju

T: 00386 40 496 201
E: okrepcevalnica.naskednju@gmail.com

Chestnut with pancetta ring
roast with chestnut puree and sauce
chestnut pancakes

Menu price: 15 €

KANAL OB SOČI

Planinsko zavetišče na Koradi

T: 00386 41 352 584

Chestnut gnocchi with goulash
roasted chestnuts

Menu price: 8 €

KANAL OB SOČI

Gostilna Pri mostu

T: 00386 5 305 25 23 | 00386 40 739 734
E: renatamugerli@gmail.com

Cold fish plate
trout with chestnut
zucchini on bourbon vanilla

Menu price: 20 €

KANAL OB SOČI

Planinski dom Pod Ježo

T: 00386 51 320 284
E: pdvs.kanal@gmail.com

Potato gnocchi with goulash
Stanič's cottage cheese slice
roasted chestnut

Menu price: 10,50 €

KANAL OB SOČI

Okrepčevalnica Britof

T: 00386 5 620 98 75 | 00386 40 438 681
E: okrepcevalnicabritof@gmail.com

Chestnut minestrone with porchini mushrooms
pork tenderloin with prosciutto in wine sauce, chestnut cottage cheese struklji
chestnut dessert

Menu price: 20 €

KANAL OB SOČI
19.09.2020

9.00

Infront of Jakovkna hiša, Podbrdo

Hike along the paths of the Rapallo border

Frika will be baked between 11 am and 5 pm by: members of TD Podbrdo

4-5h

undemanding

19.09.2020

9.00

Parking above Drežniške Ravne

Hike along the Walk of Peace: open-air museum of the 1st w. war Zaprikraj

5h

moderately demanding

19.09.2020

9.00

at the A station of Kanin cablecar, Bovec

Lions charity walk on the Bovec trails

3h

undemanding

19.09.2020

9.00

ŠRC Ložice

5th hike along the paths of the Old Believers

7h

demanding

19.09.2020

10.00

ŠRC Ložice

5th hike along the paths of the Old Believers

6h

moderately demanding

20.09.2020

9.00

Slap Inn, Slap ob Idrijci

Ponikve - Šentviška planota

Path through Žlebi

Frika will be baked between 11 am and 5 pm by: members of TD Šentviška planota

3h

moderately demanding

20.09.2020

11.00

Suše (ski resort in Ponikve)

Ponikve - Šentviška planota

Cycling circle on the Planota plateau

Frika will be baked between 11 am and 5 pm by: members of TD Šentviška planota

2-3h

moderately demanding

20.09.2020

13.00

Suše (ski resort in Ponikve)

Ponikve - Šentviška planota

Hike to Črvov vrh

Frika will be baked between 11 am and 5 pm by: members of TD Šentviška planota

2,5h

undemanding

20.09.2020

5.30

TIC Cerkno

10. Hike along the Bevk trail

Cerkno – Labinje – Porezen – Vrh Ravni – Zakojca

6h

demanding

20.09.2020

8.00

TIC Cerkno

10. Hike along the Bevk trail

Cerkno – Gradišče – Zakriž – Vrh Ravni – Zakojca

4-5h

moderately demanding

20.09.2020

9.30

Dom krajanov, Hudajužna

10. Hike along the Bevk trail

1,5h

undemanding

25.09.2020

/

junction for Separacija at Peršet

Belin's Megalithic Circle

Canceled due to bad weather forecast.

4-5h

undemanding

25.09.2020

/

hut at the source of the Soča river

Soča Trail (1/2)

Canceled due to bad weather forecast.

26.09.2020

9.00

small gorge of the Soča

Soča Trail (2/2)

5h

undemanding

26.09.2020

7.00

Breginj museum

26th traditional hike Breginj-Muzec-Breški Jalovec-Brezje

over Muzec and Nizki vrh, descent through Plazi and back to Breginj

6h

demanding

26.09.2020

8.00

Breginj museum

26th traditional hike Breginj-Muzec-Breški Jalovec-Brezje

over Nizki vrh on Breški Jalovec back through Plazi and to Breginj

6h

moderately demanding

26.09.2020

8.30

Breginj museum

26th traditional hike Breginj-Muzec-Breški Jalovec-Brezje

from Bregin to st. Marjeta, through the forest to Klatnica and over Prekopa back to Breginj

3h

undemanding

26.09.2020

/

Ekološka turistična kmetija Pri Kafolu, Prepetno

Cycling to Planina Razor

Postponed to October 11th

3h

moderately demanding

27.09.2020

9.00

Shuttle Bus Tolmin station at the sports park Brajda, Tolmin

Hike Polog - Čadrg, Pr' Lovrču - Tolmin

Frika will be baked between 11 am and 5 pm by: members of PD Tolmin

3h

moderately demanding

27.09.2020

7.00

planina Mangart

Mountain hike to Male Špice, 2165m

5-6h

moderately demanding

27.09.2020

9.30 | 11.30 | 15.00

Tolmin Gorges

World Tourism Day

three free guided tours and free entry to the Tolmin Gorges

2h

undemanding

27.09.2020

all day

Parking for Kozjak waterfall

World Tourism Day

free entrance to Kozjak Waterfall

3.10.2020

9.00

Dom krajanov, Grahovo ob Bači

8th hike on the Thematic Trail On My Own Land

Frika will be baked between 11 am and 5 pm by: Camp Šorli

4h

undemanding

3.10.2020

/

Bovec

19. hike along the Bovec paths

Canceled

4-5h

undemanding

3.10.2020

/

Kobarid Fire Station

Hike along the Walk of Peace: Italian military chapel on Planica

Canceled

5-6h

undemanding

3.10.2020

/

Sotočje bar, Tolmin

SoTočEK

Canceled

3km × X

4.10.2020

selfguided

Tourist farm Široko

Lom is my home

Frika will be baked between 11 am and 5 pm: Tourist farm Široko

4-5h

undemanding

4.10.2020

14.00

Most na Soči railway station

Cycling tour to Široko

Frika will be baked between 11 am and 5 pm by: Tourist farm Široko

2h

moderately demanding

9.10.2020

7.00

Kamp Koren, Kobarid

Visit to the most beautiful waterfalls in Drežnica area

6h

moderately demanding

10.10.2020

/

parking at the Brajda sports park

JULIANA TRAIL - Opening of the 17th stage

Canceled

5h

moderately demanding

10.10.2020

/

Open-air museum Kolovrat

JULIANA TRAIL - Opening of the 17th stage

Canceled

1,5h

undemanding

10.10.2020

10.00

Grajski vrt ART & DECO CAFÉ

Sotočje - Labrca - The Count's water

Frika will be baked between 11 am and 5 pm: Gostilna Labrca and Grajski vrt ART & DECO CAFÉ

3,5h

undemanding

11.10.2020

/

Dom Mihaela Gabrijelčiča in Srednje village

JULIANA TRAIL - Opening of the 18th stage

Canceled

5h

moderately demanding

11.10.2020

/

Infront of Jakovkna hiša, Podbrdo

Hike along the paths of the Rapallo border

Canceled

3-4h

undemanding

11.10.2020

/

Ekološka turistična kmetija Pri Kafolu, Prepetno

Cycling to Planina Razor

Canceled

3h

moderately demanding

17.10.2020

/

Deskle Cultural Center

Hike to Vodice

Canceled

6h

undemanding