06.07.2018
You are kindly invited to explore the Soča Valley with a local guide.
The Soča Valley hides many stories and secrets which cannot be uncovered when travelling independently. Therefore we recommend you to visit certain pearls with a local guide.
In the high season there are regularly organised guided tours for easier organisation.
Soča trail - from the source to Trenta
every Thursday in July and August
meeting point: at the Soča source hut at 9.00
price: 6 € per person
duration: 3 to 4 hours
Applications 1 day prior till 12.00
INFO:
Informacijsko izobraževalno središče Triglavskega narodnega parka Dom Trenta
T: +386 5 3889 330
E: dom-tnp.trenta@tnp.gov.si
---
Alpine botanical garden Juliana

Saturdays: 7.7., 14.7., 21.7., 4.8., 18.8. at 11.00, 12.00, 13.00 and 14.00
Thursdays: 12.7., 2.8. at 10.00, 13.00 and 14.00
price: entry ticket
INFO:
Prirodoslovni muzej Slovenije
T: +386 1 241 09 40
E:
more about the botanical garden
---
Ravelnik open air museum
every Wednesday in July and August

meeting point: in front of the Austro-Hungarian military cemetery below Mt. Ravelnik at 10.00
price: 10 € per person
duration: 60-90 min
prior registration required by Wednesday till 9.00
INFO:
Ustanova »Fundacija Poti miru v Posočju«
T: +386 5 38 90 166
M: +386 31 586 296
E: turizem@potmiru.si
more about Ravelnik open air museum
---
Kolovrat open air museum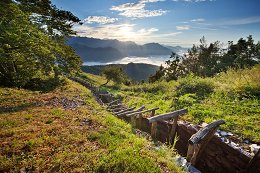 every Friday in July and August
meeting point: parking area on Kolovrat
price: 10 € per person
duration: 90 min
prior registration required by Friday till 9.00
INFO:
Ustanova »Fundacija Poti miru v Posočju«
T: +386 5 38 90 166
M: +386 31 586 296
E: turizem@potmiru.si
more abot Kolovrat open air museum
---
Tolmin Gorges
every Monday in July and August
meeting point: at the entrance of the gorges at 11.15
price: 1 € per person + entry ticket
duration: 90 min
INFO:
TIC Tolmin
T: +386 5 38 00 480
E: