Visit to the WW I outdoor museum Mengore
Date: 2020-09-12
Event hour: 11:00
City: Tolmin
---
Join us on our guided tours along the Walk of Peace! Together we shall discover the secrets of WW1 history and the beauty of nature in the Soča Valley.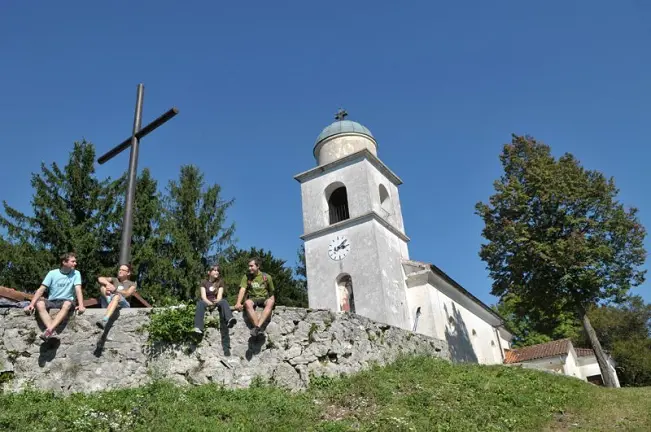 Between Tolmin and Most na Soči the ridges of Mengore and Bučenica rise above the right bank of the River Soča. What was the role of these two elevations during the First World War, and what is the story the numerous remains here can tell us today?
Two paths lead up to the top of Mengore, the historical trail and the pilgrimage route, which meet at the church dedicated to the Blessed Virgin's Name. The pilgrimage church was decorated with frescoes by Tone Kralj, the painter who fought against the fascist regime in a very special way, thus enabling the people of Primorska to withdraw to an oasis of Slovenianism at least for short spells of time.
GATHERING PLACE: at the parking area above the village Kozaršče (Na Pelancah)
TOUR DURATION: 2-3 hours
DIFFICULTY: undemanding
EQUIPMENT: trekking clothing and footwear, drinks and food from backpack, flashlight
PRICE: 15 €/person
INFO: Prior registration required by Friday 16:00 at:


Ustanova »Fundacija Poti miru v Posočju«
Gregorčičeva ulica 8, 5222 Kobarid
T: +386 (0)31 586 296
E: