Incentive Programmes in the Soča Valley
Pleasant socialisation in the picturesque world of the Julian Alps, Triglav National Park and the emerald green Soča river has been upgraded by interesting active experiences, ideal for smaller groups.
Immensely beautiful nature, rich tradition, incredible cuisine, unique history and in particular a wide range of activities in nature are the factors that put the Soča Valley among the top 10 incentive destinations of the Southeast Europe according to Kongres magazine and the Conventa convention bureau. Choose to socialise, party or even organise a trip for your co-workers that suits your needs best.
»Soca Valley – what a travel jewel it is – fabulous destination for an Incentive trip – the Emerald river, the watersports, hiking and cycling and the history make this a must see location – a well kept secret. The gastronomic delights were also a winner. I also have every confidence the Tourist Board would ensure everything goes to plan.«

Alan, Tyler Tours, London
Soča Valley‬ has been ranked among 10 best meeting destinations in year 2015
According to the Congress magazine and Conventa, the Soča Valley is one of the top 10 destinations in South-East Europe in the field of business meetings and incentive programs.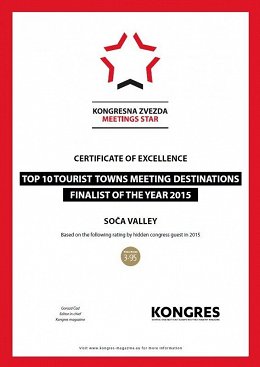 Incentive programmes - INFORMATION
Soča Valley Tourist Board

Rupa 17
SI - 5230 Bovec
t: 00386 5 30 29 647
info@dolina-soce.si