Autumn in Soča Valley – explorer's paradise
01.10.2018
Summer crowds are gone. Unbearable mid-day heat is not here anymore. Nature plays with the color palette.
Autumn months September and October are ideal for active holiday break,
especially if you plan to do some hiking. First rain has cleared the haze from the summer heat wave and sky is heavenly blue again. From the mountain tops you can clearly see Adriatic Sea in the south and Carinthian peaks with the mighty Großglockner in the north. On the way to the top you can learn about history of The Isonzo front first hand by walking past bunkers and trenches that are almost the same as they were a hundred years ago.
Down in the valley visitors can still enjoy all the water activities, just this time almost by themselves and really get that pristine touch with the nature. Mountain biking and road cycling are also a good option to spend the day out in the fresh air.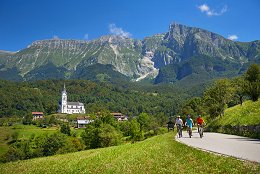 Days are shorter but that only means that you have more time to enjoy culinary delights in one of many restaurants that offer local cuisine or if you want to try all at once just go to Jestival – Food & Art Festival that is happening on October 6 in Kobarid.