Polog – an exciting vale of peace
Date: 2019-07-13
Event hour: 09:00
City: Tolmin
---
Join us on our guided tours along the Walk of Peace! Together we shall discover the secrets of WW1 history and the beauty of nature in the Soča Valley.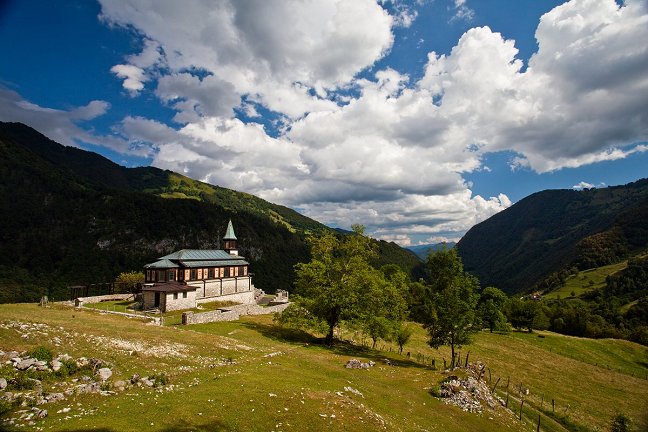 The impressive trail above the Tolminka gorge will lead us to the Polog alpine pasture where Austro-Hungarian rear positions were organized for the supply of the nearby mountain battlefields during World War I. As a reminder of the war and also as a timeless symbol of peace, the Memorial Church of the Holy Spirit at Javorca rises above the pasture. Exactly for the reason of its deeper meaning it was awarded the European Heritage Label. The charming nature has almost blocked the view of the Italian pillbox on the Tolminka bank from the time between the two wars, but we shall nevertheless investigate its dark secrets. Before returning to Tolmin, we shall also enjoy tasting the local cheese of the autochthonous Tolminc brand, made in the traditional way on the alpine pasture.
---
Each Saturday at 9.00 in July and August.
Prior registration required by Friday 16.00.
Price:
20,00 €/person; plus entry fee for Javorca.
Duration:
Duration of the guided tour: 3,5 hours.
Assembly point:
parking area in front of the Brajda sports park in Tolmin. One's own transport.
---
Ustanova »Fundacija Poti miru v Posočju«
Gregorčičeva ulica 8, 5222 Kobarid
T: +386 (0)31 586 296
E: