WINTER TALE IN SOČA VALLEY: 5 tips for an unforgettable winter break
Although Soča Valley may seem a bit remote in winter, that's exactly what makes it even more magical and attractive. The fairy-tale winter idyll, with peaks glistening in the white and blue sky, is the perfect opportunity to escape the city hustle and bustle. Kanin (2,202 m), the highest ski resort in Slovenia, invites you to ski on natural snow, while sledging and snowshoeing are available in the valley.
Before you set off on your winter adventures, check the snow conditions.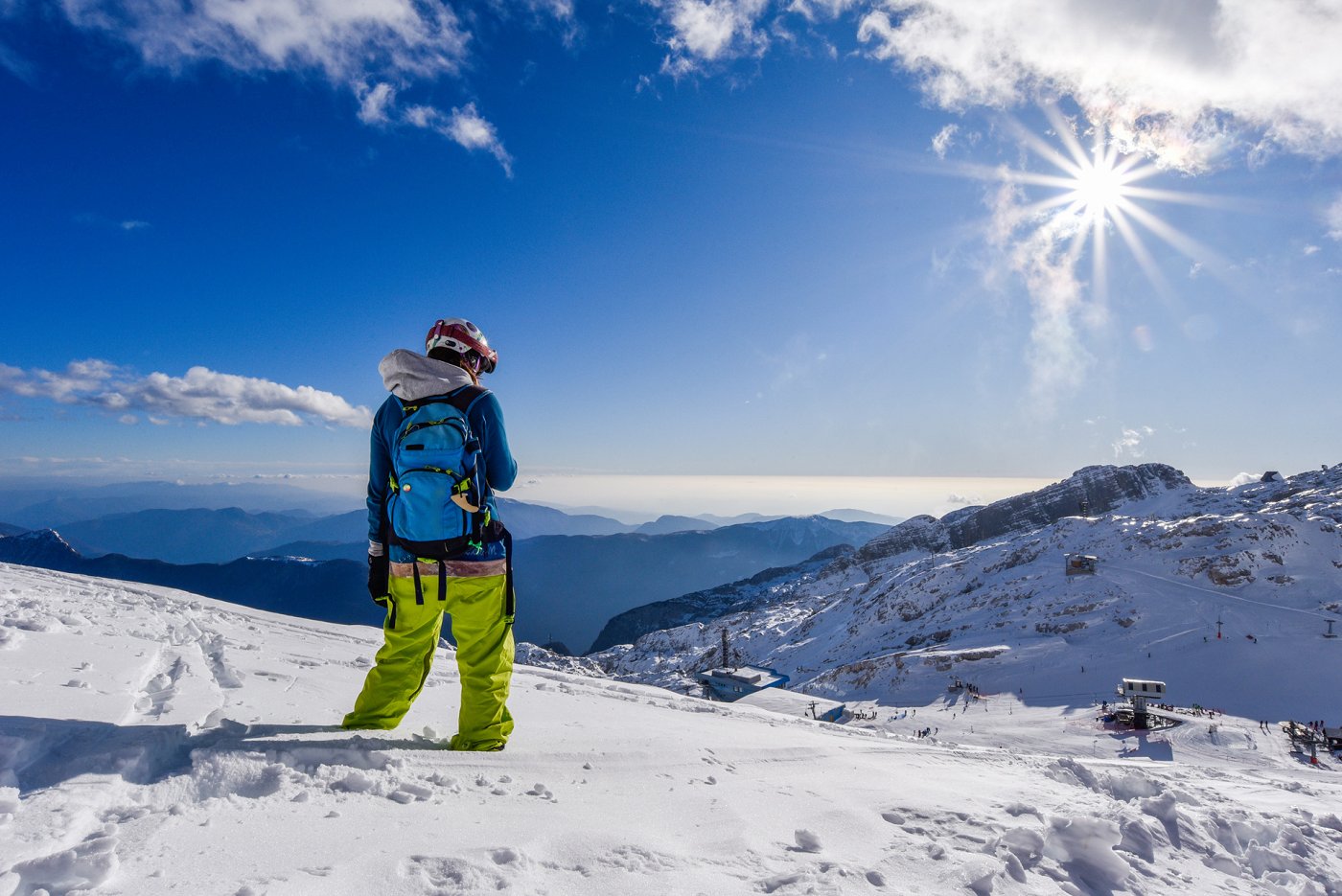 Kanin Ski Resort, &copyŽiga Humar
1. KANIN, A SKI RESORT WITH A VIEW
How about some winter relaxation in the fresh air of the high mountains overlooking the sea? Although it sounds a bit strange, Kanin combines both and is one of Slovenia's most attractive ski resorts. Visitors are most enchanted by the wild nature that stretches above 2000 m.
2. FIRST SKI TURNS AND WINTER FUN AT LOG POD MANGARTOM AND THE ŠENTVIŠKA PLATEAU
Getting ready for your first ski turns? In the shelter of the mighty mountains of Loška Stena, Mangart and Jerebica, there is a small, idyllic family ski resort suitable for children and skiing beginners. The pleasant sunny location and mountain scenery of Log pod Mangartom also attract many cross-country skiers.
The Šentviška Plateau is an excellent location for easy skiing and gets very lively when there is enough snow. Next to the short ski lift Suše, there is a cross-country skiing trail, and this terrain is also a paradise for winter hikes.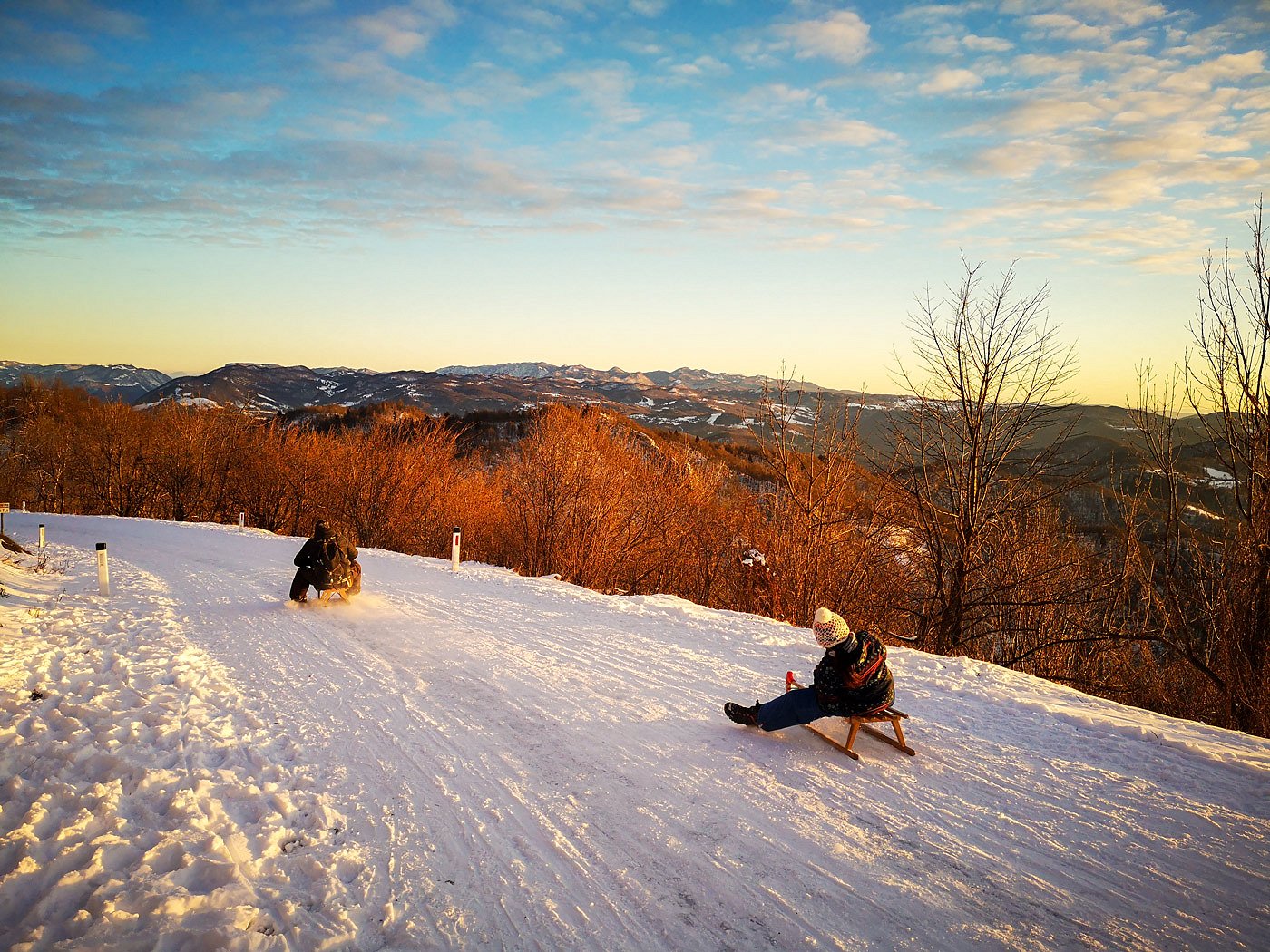 Sledding on Kolovrat, &copyTjaša Bizjak
3. SNOWSHOEING, SLEDGING AND WINTER HIKES IN SOČA VALLEY
When the Alpine landscape is wrapped in winter silence and a blanket of snow, the fairy-tale atmosphere invites you to explore the hidden corners of Soča Valley. Breathe in the fresh air, put on your snowshoes and set off with a guide on a nostalgic adventure into nature. Walking on soft snow with snowshoes used to be one of the main ways of getting around, but today snowshoeing is a great form of recreation.
Soča Valley is ideal for sledging. Sledging is possible at the family ski resort in Log pod Mangartom or on Kolovrat ridge.
Warning: a possible side effect is squealing with joy.
4. SKI-TOURING, EXPLORING THE UNSPOILED WORLDS
Triglav National Park and the Julian Alps are an excellent starting point for ski-touring. Walking with skis on remote snow-covered terrain, with only your heart beating and your soul singing. There are easy ski-tour trails from mountains Stol, Mangartsko Sedlo or ski-touring classics such as Mojstrovka, Krn and many others.
An interesting winter product has been launched in the Julian Alps: the Juliana SkiTour. It is a four-day ski touring expedition in the Julian Alps. The Juliana SkiTour is not a long-distance, uninterrupted ski tour, but a combination of four different ski tours. Each of the four stages is offered in two versions to make it easier to adapt to the actual winter conditions at the time of departure.
The pristine white slopes are a paradise for any tour skier, but they need to be respected. It is recommended that you always go on your tour properly equipped and accompanied by a guide. Check the conditions in advance and consider your capabilities.
5. DISCOVERING CULTURAL HERITAGE
A diverse history and the First World War have left an indelible mark on the Soča Valley. Numerous museums, rich religious heritage and mighty fortifications are popular tourist spots that tell the stories of the past. In winter, Kobarid and Tolmin museums invite visitors. The former tells the story of the Isonzo Front, while the latter goes further back in history, focusing on the archaeological finds from Most na Soči, the residential culture of the Tolmin region and Tolmin Peasant Uprising of 1713. In the countryside, you can visit many cultural spots:
Kozlov Rob hill with the remains of the Tolmin castle, the German and Italian charnel houses, Mengore and Ravelnik open-air museums. The Memorial Church of Holy Spirit in Javorca and the Kluže Fortress near Log pod Mangartom are also important cultural gems. Although closed in winter, they are worth visiting even from the outside.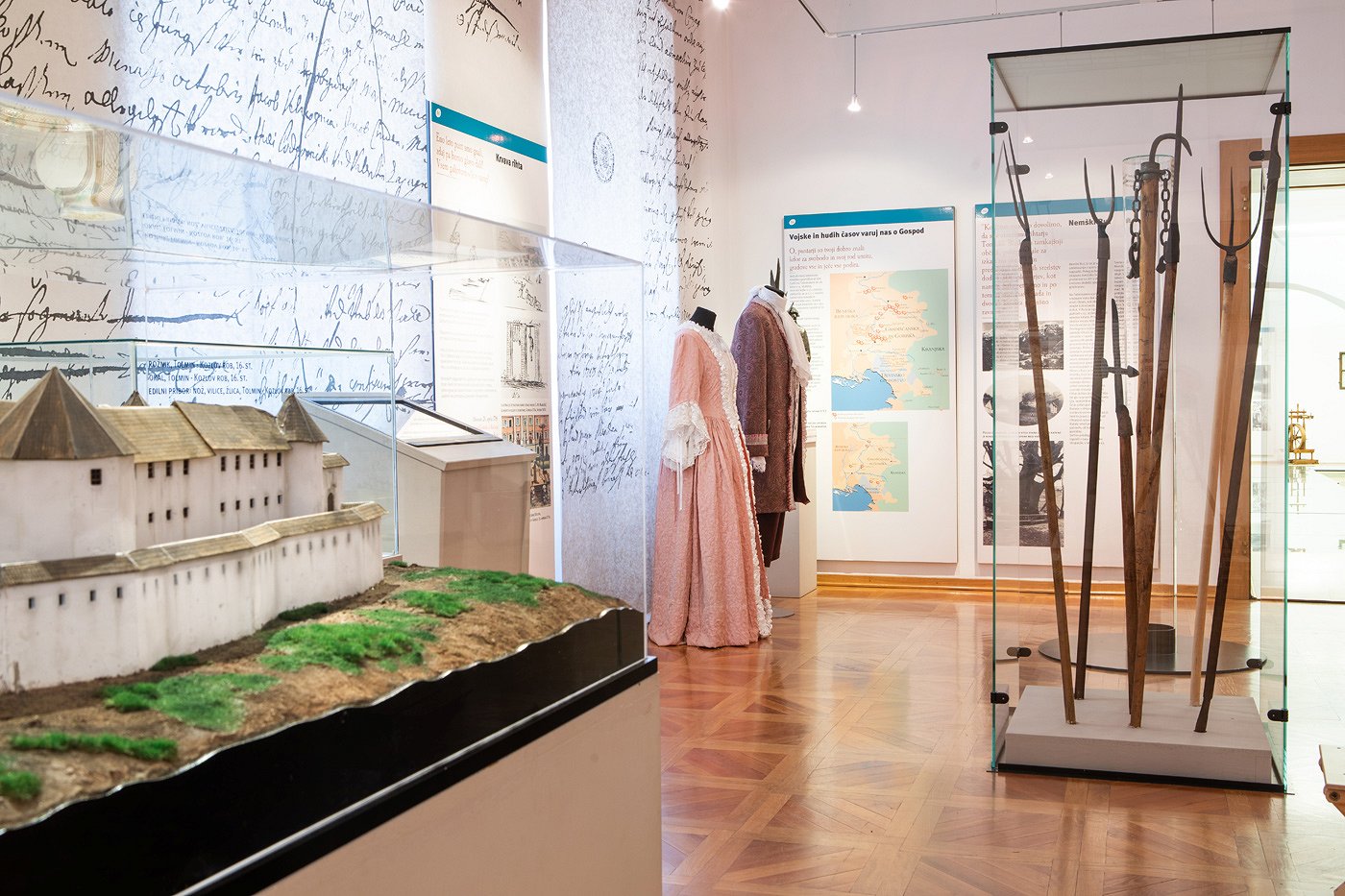 Tolmin museum, historical and ethnological collection, &copyJošt Gantar